Advertising Disclosure
Advertising disclosure:
Our partners compensate us. This may influence which products or services we review (also where and how those products appear on the site), this in no way affects our recommendations or the advice we offer. Our reviews are based on years of experience and countless hours of research. Our partners cannot pay us to guarantee favorable reviews of their products or services.
Digital advertising spending is expected to surpass $870 billion by 2026. Amidst this booming market, finding the right marketing agency could be likened to finding a needle in a haystack. This article aims to ease that search as we delve into detailed reviews and results of the best 10 Online Marketing Agencies in the USA.
Through meticulous analysis, we'll unveil the agencies that have not only mastered the art of online marketing but have a proven track record of driving substantial results for their clientele.
---
Best USA Online Marketing Agency Choices
Top
online marketing agencies usa
2024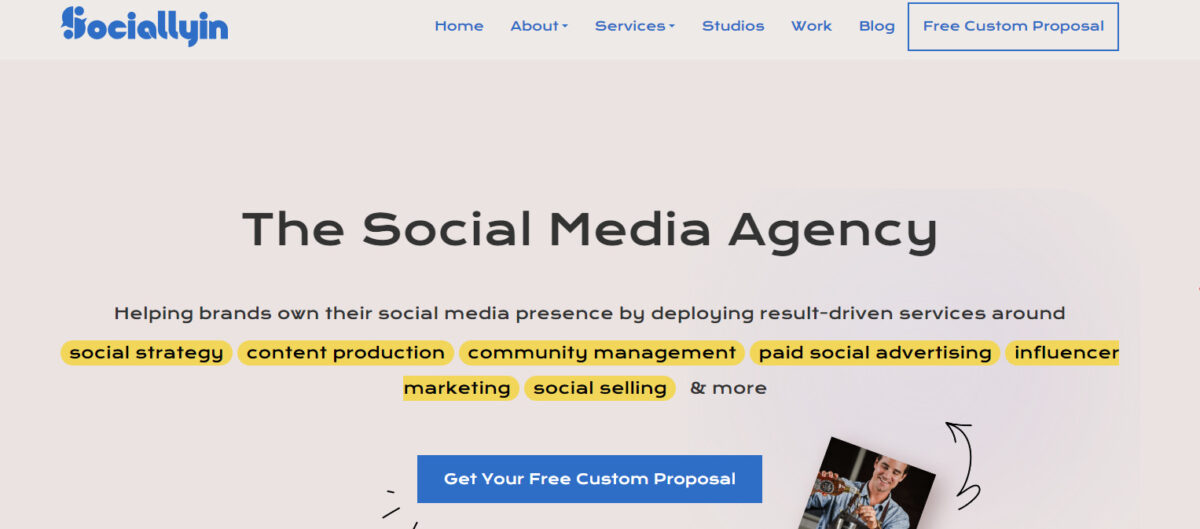 Founded: 2011
Location: Atlanta, Georgia
Sociallyin stakes its claim as a highly specialized and dedicated online marketing agency within the bustling digital marketing landscape of the USA. With over a decade of experience in creativity and data-driven approaches, the agency aims to elevate brands' online presence, ensuring it resonates well with their target audiences.
The agency's ethos is rooted in a results-oriented approach, as evidenced by their commitment to delivering tangible outcomes and continually seeking ways to surpass client expectations. This results-driven paradigm is not just a tagline but is ingrained in their service delivery, from strategizing to content production and community management. Moreover, Sociallyin takes pride in its in-house production capability, facilitating a seamless transition from strategy formulation to execution, ensuring consistency and quality in the content disseminated across social platforms.
Sociallyin's established track record is further highlighted by the notable brands and clients they have worked with, including Dick's Sporting Goods, Edible Arrangements, and Performance Health, among others. The array of positive testimonials from satisfied clients underscores the agency's ability to not only deliver on its promises but to foster long-term partnerships. Moreover, the agency's recognition within the industry, marked by awards and acknowledgments, speaks to its innovation and leadership in the social media marketing domain.
Key Online Marketing Services Offered:
Influencer Marketing
Social Media Strategy
Social Media Management
Paid Social Advertising
Social Selling
---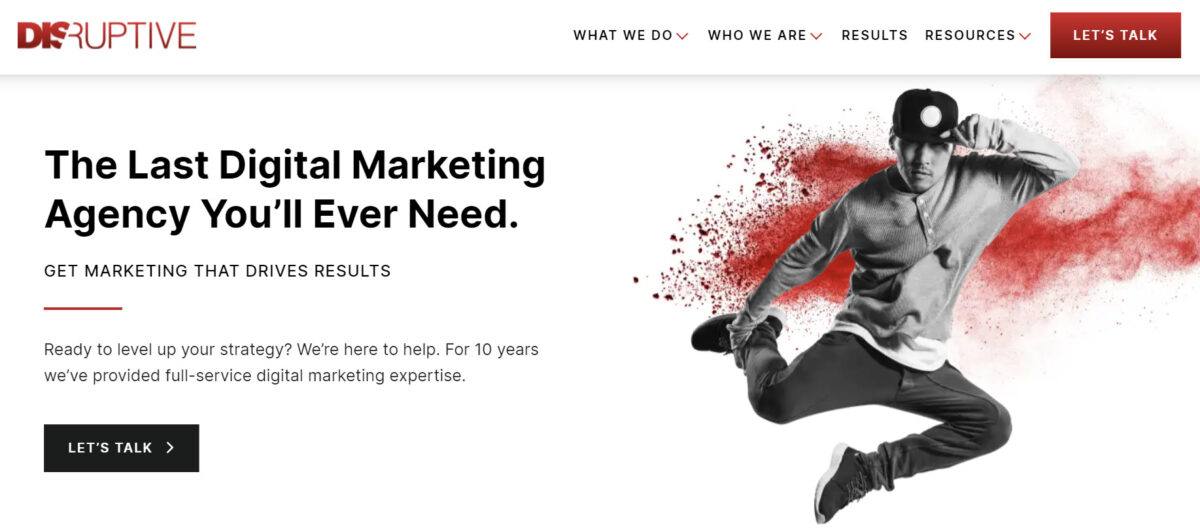 Founded: 2011
Location: Pleasant Grove, Utah
Disruptive Advertising positions itself as a comprehensive digital marketing agency with the tagline, "The Last Digital Marketing Agency You'll Ever Need." With a decade-long journey in the industry, the agency extends a broad spectrum of services to help clients navigate through their most pressing challenges and attain their objectives.
The agency's emphasis on maximizing every step of the marketing funnel demonstrates a holistic approach toward digital marketing, aiming to enhance business results at every user touchpoint. With a robust team of platform specialists and a wealth of support and resources, Disruptive Advertising aims to ensure a well-rounded strategy that effectively leverages the best platforms and services. Their proficiency spans multiple platforms, including Google, Amazon, Bing, Meta, YouTube, Instagram, TikTok, LinkedIn, Reddit, Spotify, and Twitter, showcasing a wide reach and understanding of diverse digital landscapes.
A testament to their commitment to delivering exceptional services is the retention of over 90 clients for four or more years and an impressive average rating of 4.8 from 300 reviews on Clutch. Additionally, managing over $450 million in annual ad spending for clients and being featured on the Inc. 500 list at #145 underscore their capability and recognition in the digital marketing domain.
Key Online Marketing Services Offered:
Content Creation
PPC
SEO
Email Marketing
eCommerce
SEM
Paid Social
---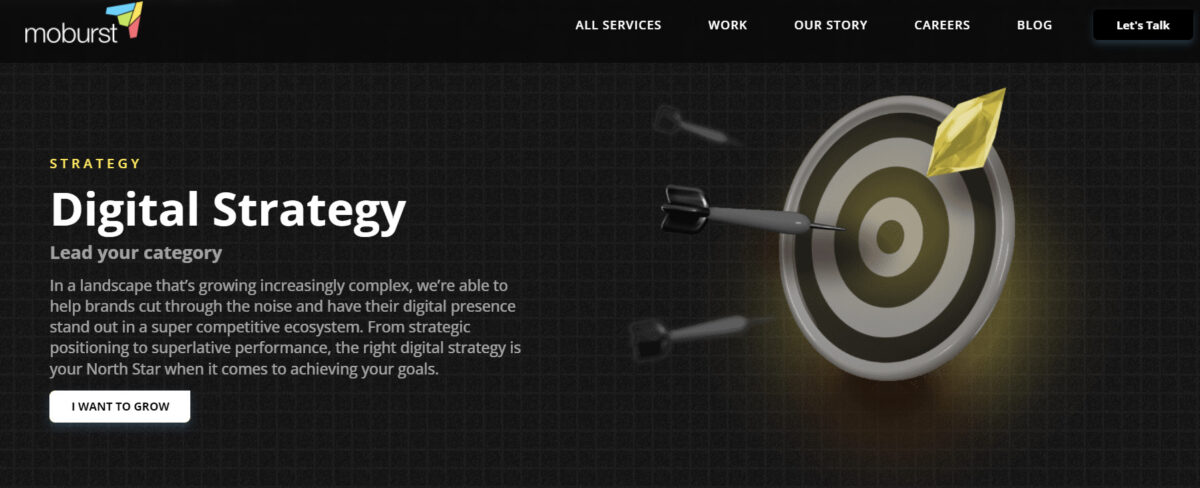 Founded: 2013
Location: New York City, New York
Moburst is a robust, mobile-first digital marketing agency ready to propel businesses into a realm of hypergrowth. The agency adopts a holistic approach aimed at not merely managing ad accounts but also architecting comprehensive digital marketing strategies that resonate with the brand's audience preferences. Through this, Moburst seeks to help companies scale and assert a commanding presence within their respective categories.
A striking feature of Moburst is its emphasis on real-time data to drive their strategies, ensuring every action taken is measurable, transparent, and aligned with the client's Key Performance Indicators (KPIs). This data-driven ethos extends across their service offerings, showcasing a blend of analytical and creative prowess. Moburst's narrative is enriched by a plethora of successful case studies, illustrating impressive growth results for notable clients across various sectors. 
Their awards cabinet is equally impressive, with accolades such as Adweek's Fastest Growing Agencies of 2022 and being named among the Top User Acquisition Companies in 2023. These recognitions underscore Moburst's commitment to delivering result-oriented digital marketing solutions. The comprehensive nature of their services, combined with a proven track record of driving substantial growth, positions Moburst as a formidable player among US-based online marketing agencies.
Key Online Marketing Services Offered:
Content Creation
PPC
Influencer Marketing
Social Media Marketing and Management
SEO
Paid Social
---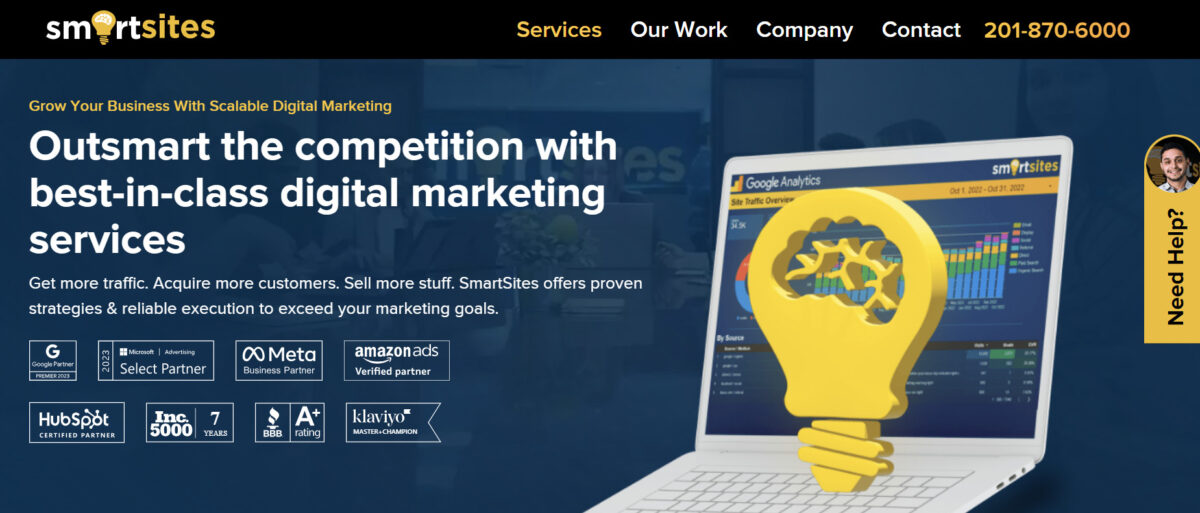 Founded: 2011
Location: Paramus, New Jersey
SmartSites Digital Marketing Agency exemplifies a blend of innovation and result-driven strategies in the realm of online marketing. With a keen focus on embracing new technologies, SmartSites offers a broad spectrum of services to amplify a business's visibility and ensure the right audience is reached.
The credentials of SmartSites are bolstered by notable partnerships and recognitions. As a Google Premier Partner and a Microsoft Advertising Select Partner for 2023, the agency demonstrates a proficient command over crucial advertising platforms. The Meta Business Partner and Amazon Ads Verified Partner statuses further underscore the agency's broad-reaching capabilities in navigating various digital marketing landscapes. This recognition is not just emblematic of their expertise but a testament to their ability to drive tangible results in a competitive digital marketplace.
SmartSites is strategically positioned to serve a broad clientele with a results-oriented ethos. Their BBB A+ rating signifies a high level of trust and satisfaction among their clientele. The agency's comprehensive service offerings, coupled with a relentless pursuit of staying ahead in learning new technologies, make SmartSites a notable contender among US-based online marketing agencies.
Key Online Marketing Services Offered:
PPC Management
Paid Search
Paid Social
Organic SEO
Email Marketing
Social Media Management
---

Founded: 2005
Location: Dallas, Texas
Thrive Digital Marketing Agency encapsulates a results-driven approach to optimizing online visibility and engagement for businesses across various industries. With a comprehensive suite of services, Thrive showcases its ability to harness diverse digital marketing channels.
With a tagline that asserts "Results Driven Digital Marketing Agency," Thrive substantiates this claim through documented case studies illustrating significant improvements in organic traffic and online leads for their clientele. Client testimonials reflect a high degree of satisfaction, emphasizing Thrive's commitment to ethical practices, honesty, and proven digital marketing tactics. The showcased results, alongside positive client feedback, underline Thrive's capability to transcend generic marketing approaches and deliver tailored solutions that resonate with the client's unique business objectives.
As a recognized entity in the digital marketing arena, Thrive's certifications and awards attest to its industry expertise and consistent delivery of value. The agency's discourse on the latest industry developments through its 'Thrive Growth Insider' segment reflects a keen understanding and responsiveness to the evolving digital marketing landscape. Thrive's customer-centric ethos, as expressed through its services and client interactions, distinguishes it in a crowded market of US-based online marketing agencies.
Key Online Marketing Services Offered:
PPC Management
Email Marketing
Social Media Marketing and Management
SMS Marketing
SEM
SEO
eCommerce Marketing
---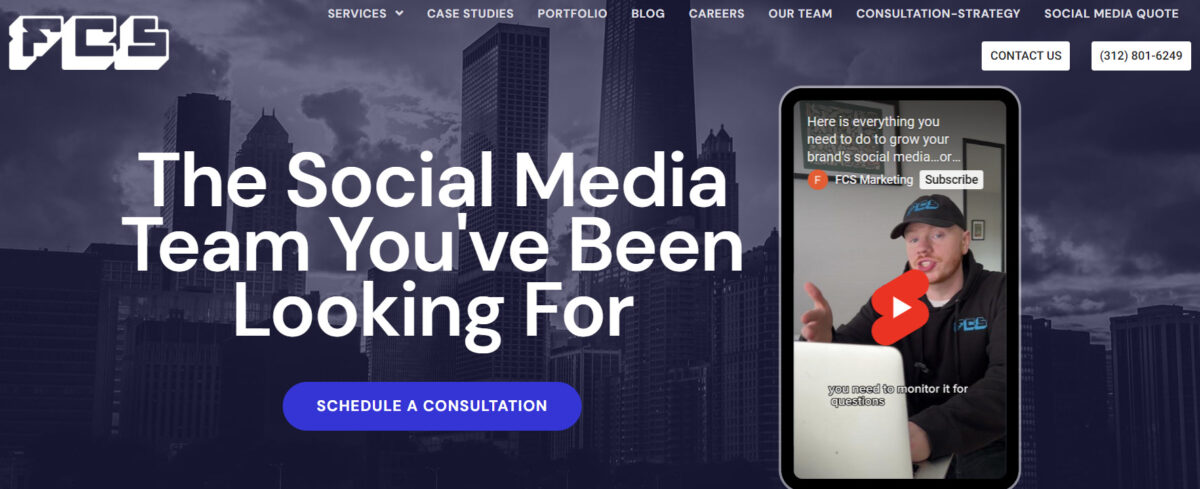 Founded: 2014
Location: Northfield, Illinois
Fresh Content Society (FCS) emerges as a robust contender in the sphere of social media marketing, offering tailored strategies to elevate brand visibility and engagement. Their suite of services helps them deviate from the one-size-fits-all strategy to understand and meet each client's unique objectives. Their content creation segment is noteworthy, developing tailored content designed to resonate across various social media channels, showcasing a nuanced understanding of platform-specific engagement strategies.
Their case studies provide tangible evidence of their efficacy, highlighting significant achievements such as substantial engagement increases and impressive Return on Ad Spend (ROAS) figures for their clientele. Moreover, client testimonials underscore a satisfactory working relationship and a high level of transparency, accentuating FCS's commitment to delivering first-class service.
Fresh Content Society stands out for its dedication to building organic social media communities. Through a blend of data-driven insights and custom-tailored strategies, FCS not only identifies gaps in current marketing strategies but crafts actionable plans to enhance online visibility and impact. Their offering extends beyond mere social media management to encompass paid media strategies, reflecting a holistic approach to digital marketing. This holistic approach, coupled with a strong emphasis on client-centric strategy development, positions Fresh Content Society as a competent partner for brands looking to bolster their social media presence and achieve tangible business results.
Key Online Marketing Services Offered:
Content Strategy
Influencer Management
Campaign Management
Reporting and Analytics
---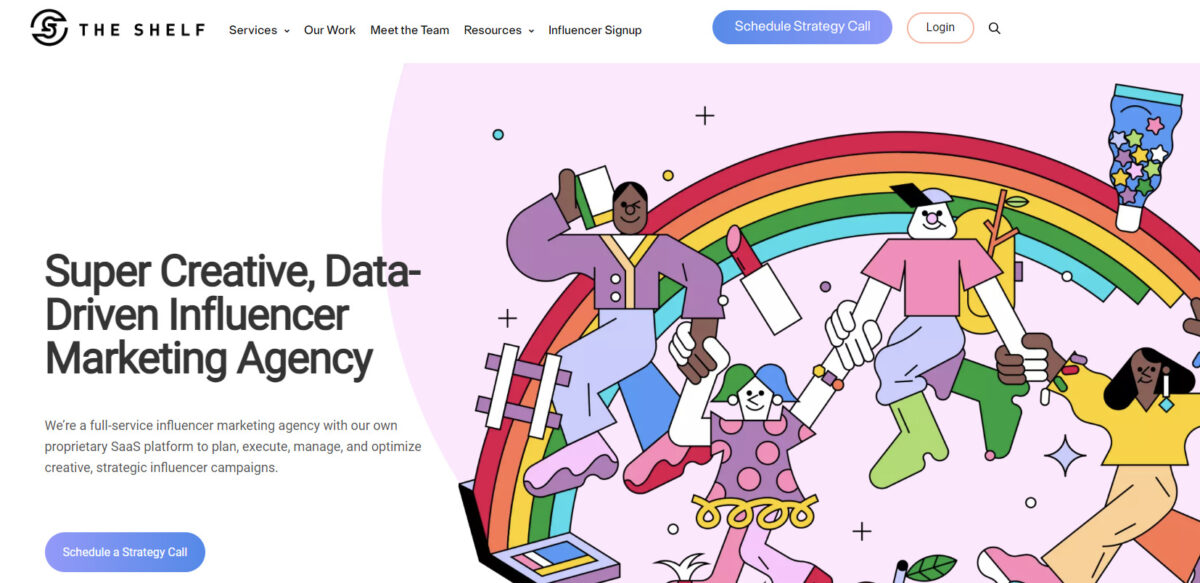 Founded: 2013
Location: Atlanta, Georgia
The Shelf, a comprehensive influencer marketing agency, leverages a blend of creativity and data-driven insights to execute influencer campaigns. What sets them apart is their proprietary SaaS platform, which facilitates the planning, management, and optimization of these campaigns. Their service offering is robust, and by harnessing data to identify suitable creators who can foster brand awareness and achieve client goals, they exhibit a strong competency in melding strategy with execution. Their methodical approach underscores a commitment to over-delivering on Key Performance Indicators (KPIs), as they boast a history of success across diverse industry verticals.
Examining their campaign case studies reveals a consistent record of exceeding engagement targets and delivering significant influencer ROI. For instance, campaigns for Lenox, St Pierre Bakery, and The Honest Company showcase their ability to generate high engagement rates, substantial video views, and, in some cases, viral content. These successes illustrate their adeptness in crafting campaigns that resonate with target audiences, and their knack for matching the right influencers with the right narrative, thereby achieving a synergy that propels brand messages effectively.
The recognition The Shelf has garnered, including being a 2021 Inc 5000 honoree and a member of the Forbes Agency Council, further solidifies their standing in the influencer marketing realm. Their expertise extends beyond typical influencer campaigns to creating nuanced strategies for specific sectors like fashion, food, home decor, and parenting, among others. By offering a range of services tailored to different industry needs and possessing a rich repository of influencer marketing resources, The Shelf positions itself as a holistic influencer marketing partner.
Key Online Marketing Services Offered:
Social Media Marketing
Marketing Strategy
Branding
Relationship Building
Optimization
Quality Control
---

Founded: 2011
Location: Atlanta,  Georgia
Lyfe Marketing is an award-winning social media management company dedicated to augmenting business growth through strategic online marketing campaigns. Central to its offerings are social media management services aimed at transforming a brand's online presence through high-quality content, daily activity, and follower engagement. The essence is to familiarize followers with a brand, ensuring a seamless conversion into loyal customers. By managing key social platforms like Facebook, Instagram, Twitter, LinkedIn, and Pinterest, Lyfe Marketing endeavors to create a cohesive narrative that resonates with the target audience, thus fostering brand loyalty and advancing business objectives.
Their advertising strategies are crafted to accelerate growth while ensuring cost efficiency. Lyfe Marketing's comprehensive approach is underscored by its dedication to understanding a business's unique attributes, target audience, and competition, thus crafting bespoke marketing strategies. Their service extends to content creation based on extensive market research, ensuring the material is both engaging and competitive.
The agency's commitment to monitoring social media interactions and analyzing performance metrics ensures a continuous improvement strategy, adapting to the changing online landscape. The integrated service offering, coupled with a focus on delivering tangible results, underscores Lyfe Marketing's competence in navigating the complex digital marketing ecosystem, making it a viable partner for businesses seeking to enhance their online footprint.
Key Online Marketing Services Offered:
PPC Management
SEO
Social Media Management
---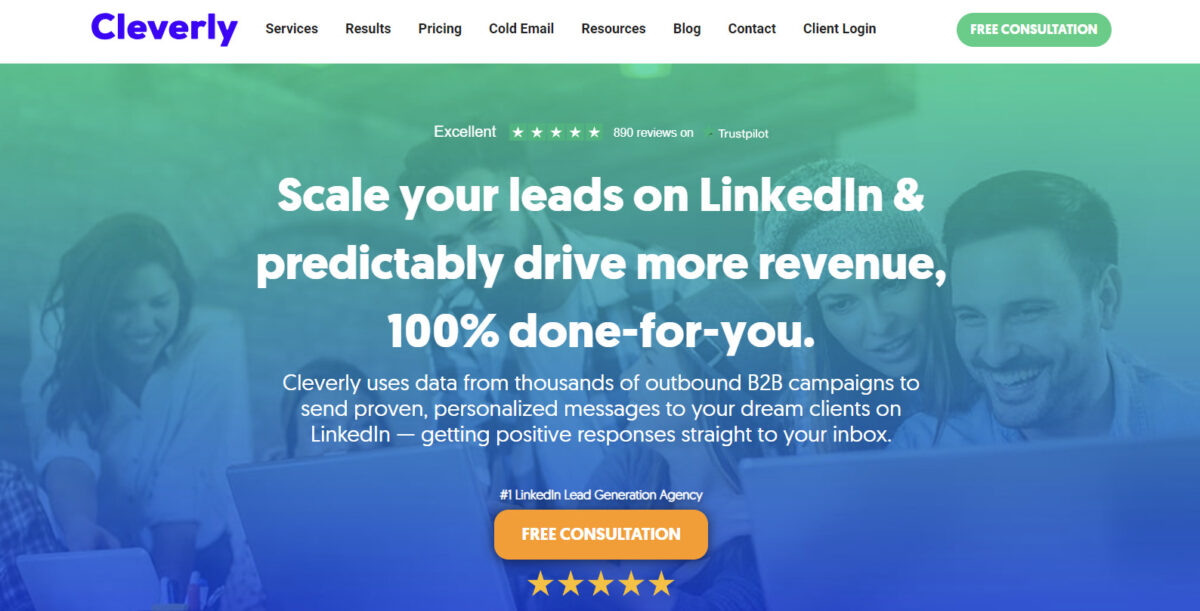 Founded: 2018
Location: Los Angeles, California
Cleverly, a distinctive force in the US online marketing arena, particularly excels in harnessing LinkedIn for lead generation. With a claim of being the #1 LinkedIn Lead Generation Agency, Cleverly capitalizes on data from myriad successful outbound B2B campaigns to craft personalized outreach strategies for its clients. Its principal offering is a meticulously designed LinkedIn outreach program that identifies ideal prospects, composes compelling and personalized messages, and executes outreach at scale.
By doing so, Cleverly not only streamlines the lead generation process but predictably drives higher revenue for its clientele, showcasing a promising track record of generating over 151.4K leads and $37.6M in client revenue. The agency's unique proposition lies in transforming a client's LinkedIn profile into a lead-converting machine while also crafting authentic and engaging content. With seasoned account managers at the helm, clients are educated on effective systems to track, respond to, and nurture leads, fostering a culture of continuous improvement based on real-time data analysis. This holistic approach to LinkedIn marketing underscores Cleverly's commitment to empowering clients to close deals effectively.
In a market inundated with generic solutions, Cleverly stands out with its dedicated, result-driven approach, and a plethora of satisfied client testimonials bear testimony to its efficacy. The agency's offer of a free consultation, coupled with its transparent pricing structure, adds a layer of trust and accessibility for prospective clients. With major brands like Uber, PayPal, and Amazon in its clientele, Cleverly demonstrates a high level of expertise and a proven track record in delivering tangible business results. Through its comprehensive and personalized services, Cleverly indeed positions itself as a reliable, US-based online marketing agency for businesses aiming to thrive in the digital realm.
Key Online Marketing Services Offered:
Email Marketing
Digital Marketing
Paid Ads
Ad Creative
---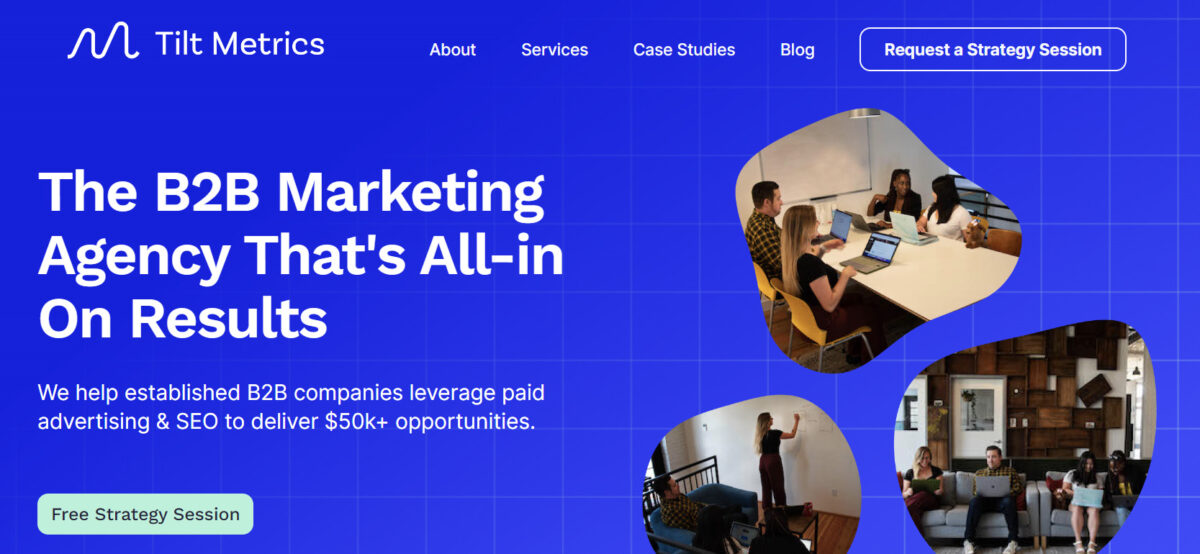 Founded: 2014
Location: Boston, Massachusetts
Tilt Metrics presents itself as a steadfast advocate for result-driven online marketing specifically tailored for the B2B sector. Their core prowess aims to deliver $50k+ ventures for established B2B entities. The substantiated impact of their strategies is showcased by the impressive $20M+ in closed revenue and over 10,000 leads generated. The agency's ethos is clear: to transition beyond theoretical strategies and deliver tangible results, a stance further corroborated by their case studies revealing significant sales increments and enhanced signups for their clients.
The mechanism of Tilt Metrics' service delivery is structured yet fluid, focusing on a three-pronged approach: generating awareness, building trust and authority, and converting qualified prospects. This systematic process is designed to not only attract ideal customers but to guide them through an educative journey, elucidating how a client's product or service solves a pertinent problem, eventually leading to sales conversations.
In a digital market flooded with generalized solutions, Tilt Metrics carves a niche with its B2B-centric, result-oriented approach. Their invitation for a free strategy session reflects a client-centric philosophy, providing a glimpse into a 90-day lead generation plan irrespective of the engagement status. This gesture, alongside their multi-channel marketing expertise spanning Facebook, Instagram, Google, LinkedIn, and YouTube, manifests Tilt Metrics as a comprehensive, approachable, and proficient online marketing agency, making them a noteworthy contender in the US digital marketing sphere.
Key Online Marketing Services Offered:
PPC Management
Social Media Management and Marketing
Paid Social Creative Production
User Acquisition
---
How to Choose the Right USA Online Marketing Agency? 
Choosing the right online marketing agency in the USA can significantly boost your business's online presence, but the task can be daunting with numerous agencies available. Here's a concise guide to streamline your selection process:
Understand Your Business Goals
Before you start searching for an agency, it's essential to have a clear understanding of what you want to achieve. Whether you're looking to boost brand awareness, drive website traffic, or increase conversions, having specific objectives will guide your selection process. It also ensures that the agency you choose aligns well with your business vision.
Evaluate Their Experience and Expertise
It's crucial to select an agency that has a proven track record in your industry or niche. Examine their case studies, client testimonials, and previous campaigns. An experienced agency will be better equipped to handle the unique challenges and opportunities presented by your market.
Consider Their Geographic Focus
Since you're aiming for a USA online marketing agency, it's beneficial to ensure they have a good grasp of the local market dynamics, culture, and consumer behavior. Agencies familiar with the regional nuances can craft strategies tailored to the US audience.
Analyze Their Tools and Techniques
The digital marketing landscape is ever-evolving. Agencies that stay updated with the latest tools, platforms, and techniques have an edge. Whether it's SEO, PPC, content marketing, or social media, ensure they utilize advanced methodologies to deliver optimum results.
Assess Their Communication and Reporting
An open line of communication is fundamental in any partnership. Gauge how responsive they are to your queries and how transparently they present their strategies. Regular reports that break down performance metrics are a testament to an agency's commitment to accountability.
Compare Pricing and Value
While budget considerations are vital, don't just go for the cheapest option. Weigh the value the agency brings against the price. Sometimes, paying a little extra for a top-tier agency can yield significantly higher returns on your investment.
Beyond skills and experience, it's essential to find an agency that meshes well with your company culture. A harmonious working relationship fosters better collaboration, smoother communication, and more effective campaigns.
Once you've shortlisted a few agencies, request a detailed proposal. This will give you insights into their strategic thinking, creativity, and how they plan to meet your specific objectives.
Finding the right USA online marketing agency requires a mix of introspection and diligent research. By considering the above factors, you can better align your business with an agency that will drive results and foster growth.
---
How Does Hiring an Online Marketing Agency Impact Business Growth?
The tangible impact of an online marketing agency on business growth is often best illustrated through numbers and statistics. As such, a plethora of data is available showcasing how the right online marketing strategies can propel businesses forward.
For instance, according to a report by Google, businesses make an average of $2 in revenue for every $1 they spend on Google Ads. This is a clear indicator of the potential ROI that adept online marketing can bring to the table. Similarly, FounderJar reveals that short-form videos average the highest ROI out of all marketing forms.
Moreover, a well-executed SEO strategy by a proficient online marketing agency can lead to exponential growth in organic traffic. According to Higher Visibility, organic search drives 53% of all website traffic, underlining the significant role SEO plays in enhancing online visibility and, consequently, business growth.
Furthermore, the power of content marketing, when done right, is undeniable. Semetrical reports that content marketing costs 62% less than traditional marketing and generates about three times as many leads.
Social media, another crucial aspect of online marketing, also holds immense potential. With over 4.95 billion people using social media worldwide, it highlights that effective social media marketing can significantly widen a business's reach and engagement.
The numbers are revealing; they underscore the potential impact a competent online marketing agency can have on a business's growth trajectory. The right agency can not only optimize the marketing budget but also significantly enhance brand visibility, customer engagement, and ROI, thereby fostering sustainable business growth. Through a detailed analysis of these statistical indicators, businesses can make an informed decision while choosing an online marketing agency that aligns with their growth objectives.
---
Methodology
Our methodology for identifying standout digital marketing agencies involved a rigorous analysis of over 14000 agencies, focusing on a spectrum of critical performance metrics. We examined each agency's strategic approach, client outcomes, innovation, and adaptability within the digital marketing space. Special attention was given to the agencies' ability to deliver measurable results and their prowess in leveraging the latest digital trends to benefit clients. Leveraging our team's six-plus years of experience and a rich portfolio of over 3000 articles, we've distilled a list of top-tier agencies. This selection is designed to connect businesses with partners that not only understand the digital marketing landscape but can also navigate its complexities to drive success.
---
Conclusion
After an in-depth analysis of the top contenders, it's evident that the USA boasts a diverse range of online marketing agencies, each bringing its unique flair and expertise. While every agency on our list excels in its specialized domain, the best pick ultimately depends on individual business needs and objectives.
These agencies stand out not only for their strategic acumen but also for their innovative approaches, ensuring businesses stay ahead in the dynamic digital landscape. Choosing any among these top 10 ensures you're in capable hands, ready to propel your brand to new digital heights.
Frequently Asked Questions
What are the emerging trends in online marketing?
With the digital landscape constantly evolving, it's crucial to stay updated on the latest trends. Some emerging trends include AI and machine learning in marketing analytics, voice search optimization, interactive content, and augmented reality experiences.
How do online marketing agencies adapt to the changing algorithms of social media platforms?
Adapting to algorithm changes requires a proactive approach. Agencies typically stay updated on platform updates, analyze data to understand the impact of changes, and adjust strategies accordingly to ensure optimal engagement and reach.
What is the role of data analytics in online marketing?
Data analytics is foundational in online marketing. It helps in understanding consumer behavior, tracking campaign performance, and making informed decisions to optimize marketing strategies for better engagement and ROI.
How do online marketing agencies ensure the privacy and security of customer data?
Ensuring data privacy and security is paramount. Agencies usually adhere to legal frameworks, employ secure data handling and storage practices, and educate clients on best practices to safeguard customer data.
What are the key metrics to evaluate the success of an online marketing campaign?
Key metrics include traffic metrics (e.g., visits, users), engagement metrics (e.g., bounce rate, page views), conversion metrics (e.g., conversion rate, leads generated), and revenue metrics (e.g., ROI, customer lifetime value). Each of these metrics provides insights into different aspects of campaign performance and helps evaluate the success and identify improvement areas.