Advertising Disclosure
Advertising disclosure:
Our partners compensate us. This may influence which products or services we review (also where and how those products appear on the site), this in no way affects our recommendations or the advice we offer. Our reviews are based on years of experience and countless hours of research. Our partners cannot pay us to guarantee favorable reviews of their products or services.
The competition among agencies is fiercer than ever, with each vying for a top spot in the realm of creativity, innovation, and effectiveness. Therefore, the quest for digital excellence is not just a race but an art, where mastery in design, technology, and strategy plays a pivotal role.
In this article, we are set to journey through the corridors of digital marvels, unveiling the 10 creative agencies that have not just attained prowess in digital innovation but are setting benchmarks for the future. These top-tier agencies, with their unyielding passion and unmatchable skills, are the silent architects behind some of the most iconic brand identities and digital experiences we encounter daily.
---
Top Creative Digital Agency Picks
Top
creative digital agencies
2024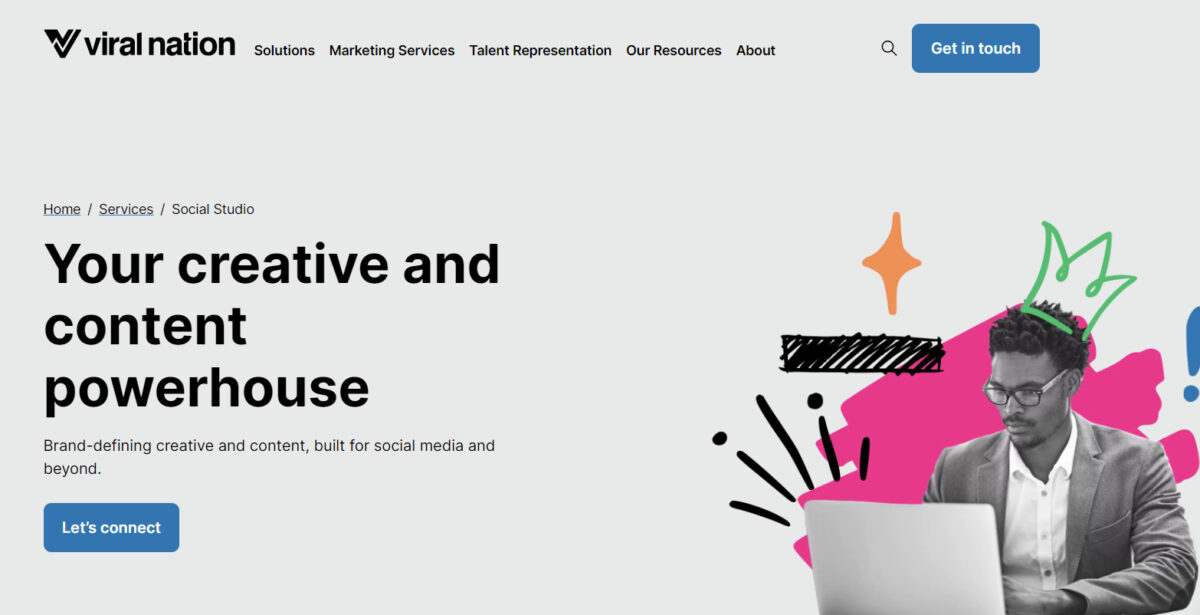 Viral Nation, renowned as a global front-runner in social media transformation, seamlessly combines innovation and strategy, standing distinguished in the crowded digital space. Specialized in integrating Influencer Marketing, Paid Performance, Owned Social, and bespoke creative services, the agency is adept at constructing a dominant social presence that fuels tangible commerce growth. Their AI-powered technologies, rooted in machine learning, offer brands a strategic blueprint to metamorphose into future-ready, social-first entities. The proof of their efficacy is marked by engaging over a billion customers, showcasing an adeptness at turning data and insights into actionable, profitable engagements.
Why Viral Nation Stands Out?
In the realm of talent representation, Viral Nation sets the bar high. Representing a diverse pool of over 600 creators across 11 industry sectors, the agency is an unwavering ally for digital stars aspiring to elevate their impact. Each brand deal and partnership is meticulously crafted, offering 33% more value, and highlighting the agency's expertise in negotiation and strategic alignment. Viral Nation is not just a service provider but a strategic partner, where innovative solutions and actionable insights converge to propel brands and influencers alike into new echelons of digital prominence and profitability, attesting to their role as architects of digital evolution.
---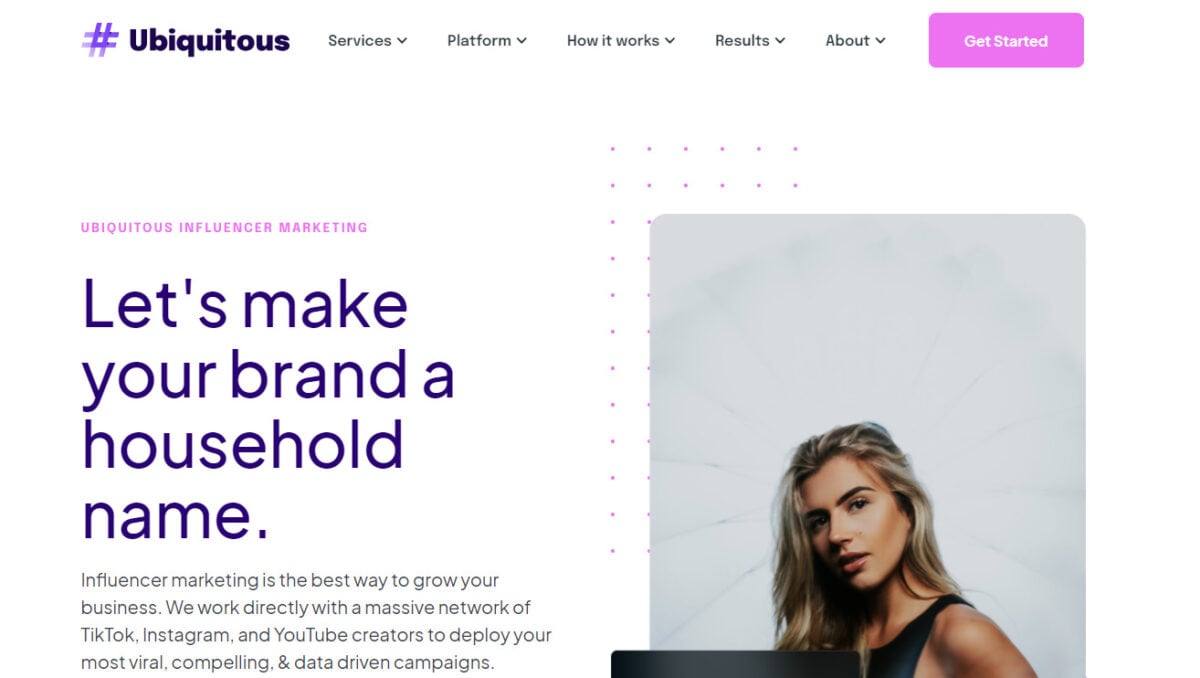 Ubiquitous stands as a beacon in influencer marketing and creative services, adept at transforming brands into household names. Specializing in creating data-driven campaigns that resonate, the agency leverages TikTok, Instagram, and YouTube creators to elevate brands globally. Their client portfolio, an eclectic mix of elite firms across verticals, attests to Ubiquitous's proficiency in delivering not just impressive metrics but tangible results. The case of Wienerschnitzel, where they orchestrated a campaign that amassed over 42 million impressions, is a testament to their strategic and impactful approach.
Why Ubiquitous Stands Out?
Ubiquitous has mastered the art of influencer matchmaking. Their self-service influencer marketing platform exemplifies innovation, granting brands direct access to competitive research, creator identification, and campaign tracking. The hands-on, result-oriented approach is affirmed by testimonials from industry professionals, like DEIRDRE GRADY of KORRES, highlighting the agency's reliability, organization, and brand passion. This combination of personalized strategies and empowering technologies underscores Ubiquitous's role in elevating influencer marketing from a digital trend to a strategic business catalyst.
---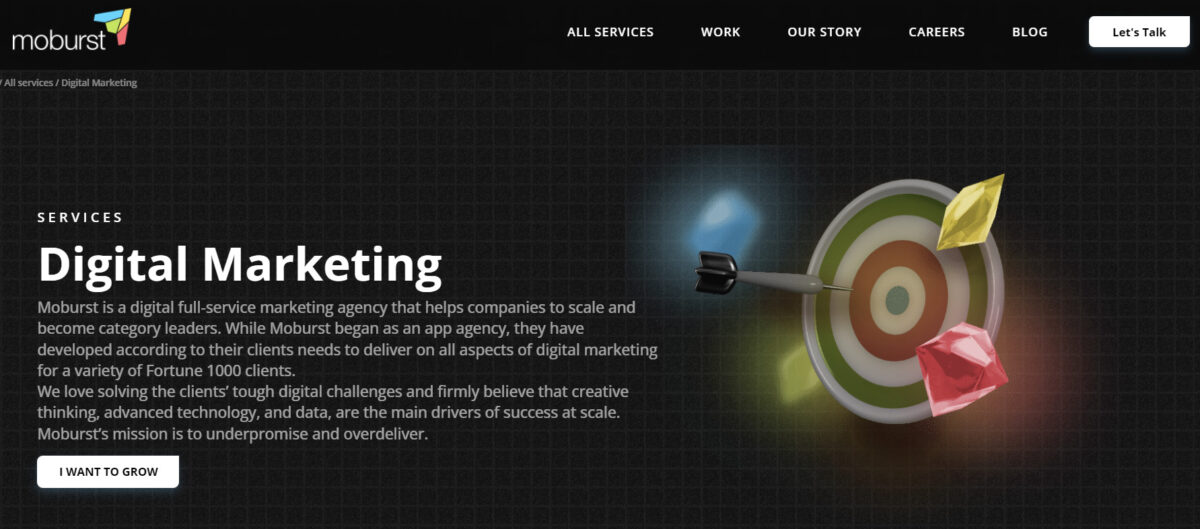 Moburst delineates itself as a powerhouse in the sphere of creative digital marketing, with a focal emphasis on mobile-first strategies. Their bespoke creative and content services are meticulously crafted to seize user attention, engendering an emotional affinity that transcends conventional engagement metrics. The agency's prowess in video production is underscored by their capability to augment conversion rates, substantiated by an alignment with the prevailing consumer inclination towards visual, dynamic content. Moburst's incisive campaign concepts and designs emanate from a confluence of creative research and strategic insights, promising a trajectory of success right from inception.
Why Moburst Stands Out?
In the realm of social media management, Moburst exhibits a nuanced understanding of the oscillating dynamics, adeptly balancing client aspirations with audience preferences to craft compelling narratives. Their expertise in app store assets optimization stands as a testament to their commitment to enhancing user engagement, reducing drop-offs, and propelling conversions. The agency's strategic utilization of User-Generated Content (UGC) capitalizes on the authenticity quotient, fostering brand loyalty and trust. This multifaceted approach, bolstered by real-time data analytics and an unwavering focus on KPI attainment, underscores Moburst's distinction as a catalyst for hypergrowth in the competitive landscape of creative digital agencies.
---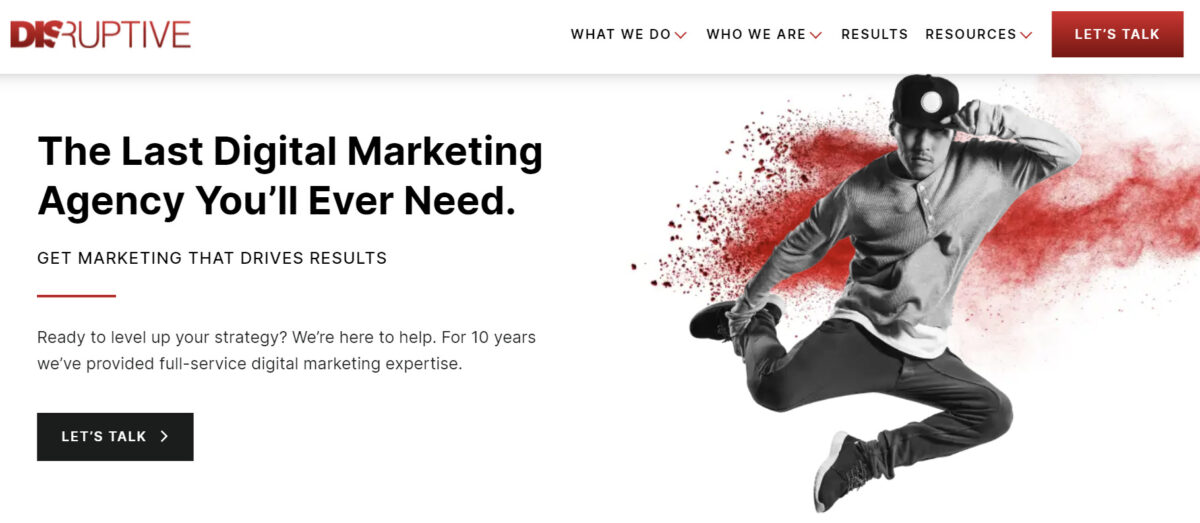 Disruptive Advertising is heralded for its exemplary approach to digital marketing, characterized by a synthesis of innovative strategies and compelling creative elements meticulously tailored to accentuate brand identity. A dedicated team of designers underpins their multifaceted creative offerings, committed to elevating marketing materials through a blend of aesthetical allure and strategic precision. In the domain of video and motion ads, Disruptive Advertising crafts narratives that are not only engaging but are also instrumental in amplifying Click-Through Rates, signifying the harmonious amalgamation of visual aesthetics and functional efficiency.
Why Disruptive Advertising Stands Out?
The agency's prowess extends to the realm of landing page design, where their adept designers craft bespoke pages attuned to the distinct preferences and expectations of the target audience. Efficiency and adaptability are the hallmarks of their design process, ensuring the landing pages are primed for performance. Brand identity is at the core of Disruptive's strategy, with every creative element meticulously curated to resonate with the business's ethos and culture, fostering customer trust and loyalty. Their iterative approach, characterized by continuous testing and refinement, ensures the creative outputs are aligned with strategic objectives, marking Disruptive Advertising as a paragon of excellence in the digital creative landscape.
---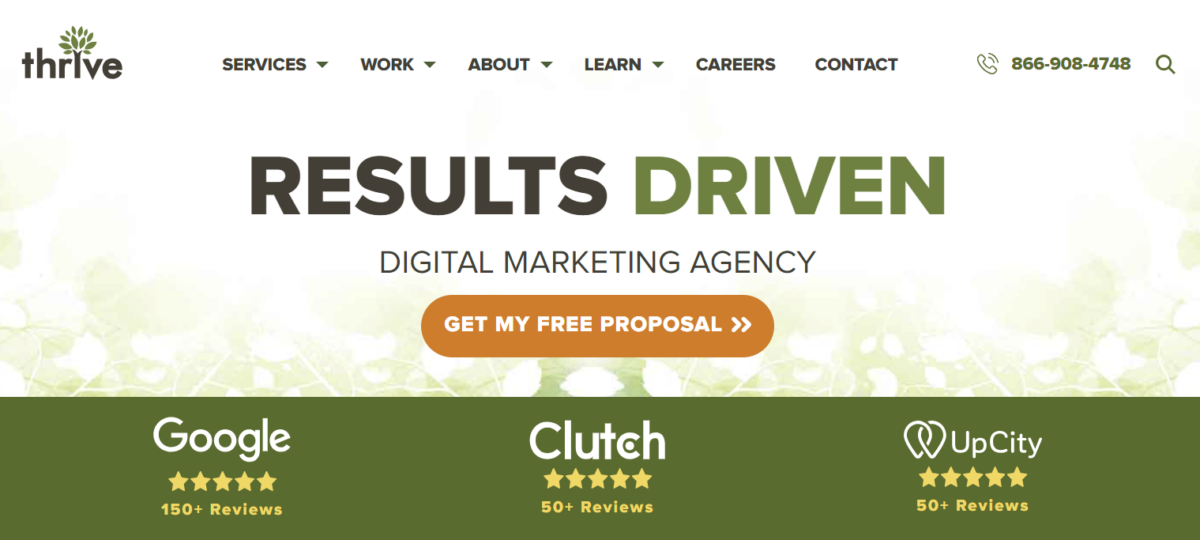 Thrive Internet Marketing Agency ensures a customized, data-driven approach to digital marketing.  Thrive excels in numerous areas, from custom website design and development to content services. The agency crafts visually engaging, mobile-ready, and SEO-optimized websites that not only captivate audiences but also catalyze the conversion journey. Each design element is predicated on a strategic visual hierarchy that underscores critical site components, fostering seamless user engagement and action. Furthermore, Thrive's expertise in social media marketing and PPC management amplifies its clients' digital footprint, leveraging data analytics to tailor campaigns that resonate with targeted audiences and optimize ROI.
Why Thrive Stands Out?
Content creation is another domain where Thrive demonstrates its prowess. The agency's content specialists are adept at developing SEO-optimized content that aligns with Google's stringent standards, ensuring clients' digital narratives are compelling and rank favorably in search outcomes. Video production, email marketing, and online reputation management augment Thrive's comprehensive service suite, each characterized by a bespoke approach that intertwines creativity, strategic alignment, and result-oriented execution, cementing Thrive's stature as a quintessential partner for businesses aspiring to transcend the conventional and establish a formidable digital presence.
---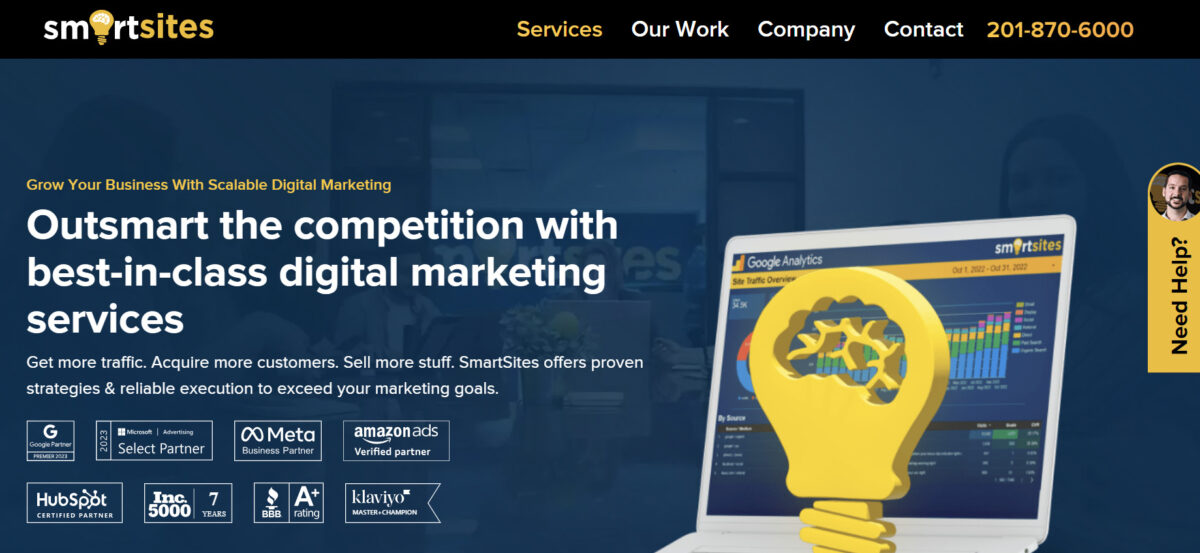 Characterized by its multifaceted approach to elevating brands in the digital domain, SmartSites stakes its claim in the digital marketing landscape as a hub of innovation and efficacy. As a Google Premier Partner and boasting an array of accolades and certifications, including a BBB A+ rating and inclusion in Inc. 5000, the agency is rooted in a culture of excellence. Specializing in website design, SmartSites crafts intuitive, fast-loading, and aesthetically appealing websites optimized for a seamless user experience across various devices. Each design is a symphony of aesthetics and functionality, meticulously engineered to represent brands distinctively and effectively.
Why SmartSites Stands Out?
The agency's prowess extends into Pay-Per-Click advertising, where it is recognized in the top 1% of digital marketing agencies globally. Combining stellar performance with exceptional customer service, SmartSites' PPC specialists offer a blend of expertise and innovation, underscored by a track record of fostering business growth. The agency's SEO services are tailored to drive organic traffic, with a holistic approach that encompasses local, eCommerce, and national SEO, technical audits, and blogging, promising visibility and engagement across the digital domain. Social media management and Email & SMS marketing services are designed to convert visitors into loyal customers, exemplifying SmartSites' commitment to optimizing every touchpoint of the digital customer journey.
---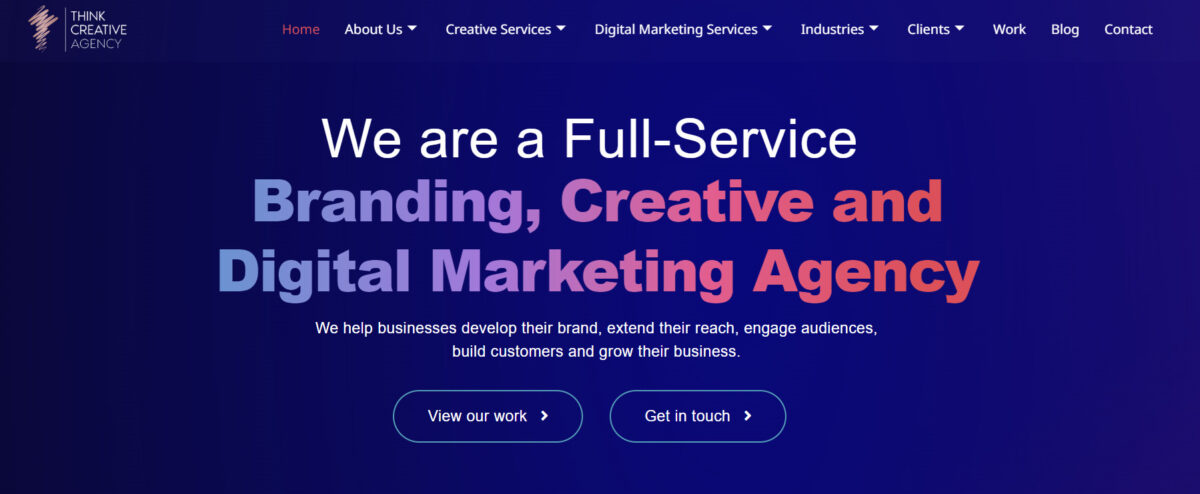 Think Creative Agency specializes in comprehensive design, communication, and branding solutions, underlined by harmonious integration of creativity and strategic execution. The agency is characterized by its bespoke approach to branding, where every strategy is tailored, pivoting on the unique nuances of each client's objectives and business ethos. With a diverse portfolio in brand strategy, identity development, and rollout, Think Creative meticulously stitches the fabric of a brand's identity to resonate with the targeted audience, ensuring every interaction echoes the brand's essence and ethos.
Why Think Creative Stands Out?
In the realm of creative digital marketing, Think Creative manifests its expertise through a diverse suite of services, including SEO, PPC, and content marketing. Each strategy is intricately woven, ensuring alignment with the brand's objectives. Their web design and development segment stands as a testament to the agency's commitment to aesthetics coupled with functionality, so every webpage is not just a digital space but an experiential journey for the visitor. Social media marketing services at Think Creative are structured to amplify a brand's voice, making every tweet, post, or story a harmonious blend of content and brand identity.
---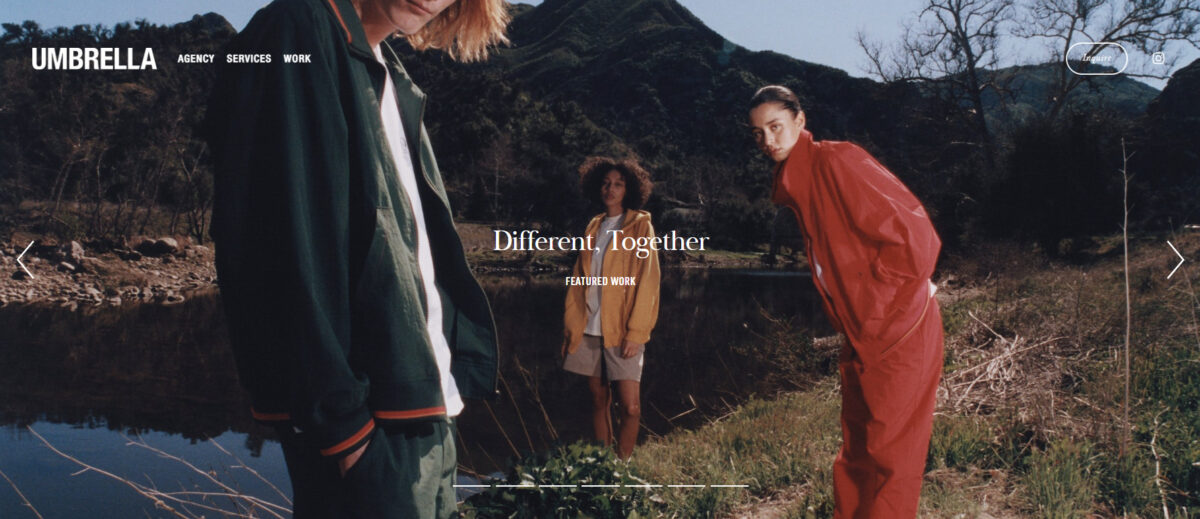 Umbrella Los Angeles, a prominent creative digital agency, blends innovation and aesthetics converge to give rise to transformative digital solutions. Serving the crème de la crème of ambitious brands, Umbrella crafts meticulous strategies immersed in creative brilliance, elevating visual content, branding, and digital marketing to a paradigm of excellence. Each brand's narrative is woven with precision, encapsulating its ethos and unfolding its story with an eloquence that resonates across diverse platforms. The synergy of marketing acumen and tech sophistication underscores Umbrella's prowess in eCommerce, social media, and the intricate tapestry of digital spaces.
Why Umbrella Stands Out?
Brand development at Umbrella is not just a process but a creative journey. From conceptualization to realization, each element – brand identity, positioning, guidelines, and logo design – is forged with a blend of artistry and strategic insight. The agency's adeptness in content production and creative direction epitomizes a harmony of creativity and functionality, yielding content that not only captivates but converts. In the dynamic landscape of social media and digital marketing, Umbrella's strategies are data-driven, infused with analytics, and adorned with creative excellence, ensuring brands not only narrate their stories but engrave them in the annals of the digital world with grace, impact, and measurable ROI.
---

Top Agency transforms brands into industry-defining entities with a blend of artistry and analytics. Their philosophy transcends traditional marketing; it is rooted in the conviction that every brand possesses the potential to not just stand out but redefine its category. This agency breathes life into this conviction by fusing creative brilliance with a robust, data-backed approach. Each branding and marketing element, from the visual aesthetics to the narrative, is a harmonious blend of emotion and empiricism, ensuring that brands resonate deeply with their audience while standing on the solid ground of data.
The agency's modus operandi is a refreshing blend of analytical and creative prowess. At Top Agency, creativity is not confined to content and branding; it is woven into the very fabric of a brand's identity. Each campaign is a meticulously crafted tapestry of innovative tactics spanning multiple marketing domains, ensuring brands stand out and echo an unmistakable identity that transcends conventional boundaries. With a global team of experts spanning six continents, Top Agency is adept at formulating and executing strategies that are ready to scale and imbued with the kind of creative excellence that transforms brands into benchmarks, shaping industry standards and trends.
---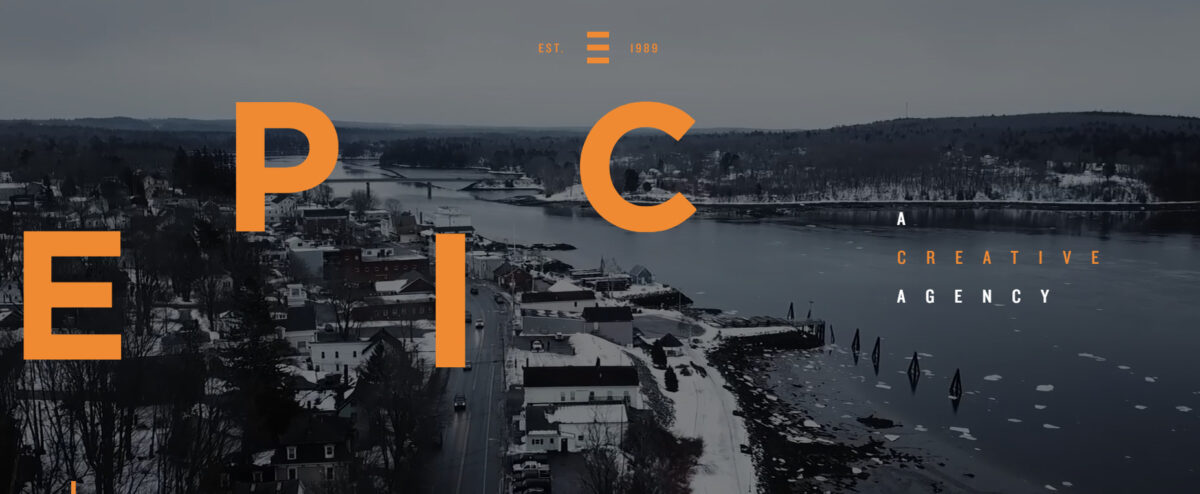 EPIC Creative, birthed in a garage and now flourishing in an art museum, epitomizes a journey of innovation, creativity, and expansive growth. With over three decades of experience, this Wisconsin-based agency has established itself as a vanguard in the realm of creative digital marketing. With a team of 85 seasoned professionals, EPIC Creative is recognized for delivering a bespoke suite of services, painting each client's narrative with strokes of ingenuity and precision. Each campaign is not just a project but a meticulously crafted masterpiece that aligns with the brand's ethos while resonating with the target audience.
Why EPIC Creative Stands Out?
The agency's ethos, "Work Hard and Be Nice to People," underscores a commitment to excellence and client satisfaction that is both profound and palpable. Specializing in an array of in-house services, EPIC Creative is not just about fulfilling tasks; it's about orchestrating symphonies of visual and conceptual artistry that elevate brands to pinnacles of recognition and engagement. Their bespoke approach means every 'EPIC burger' is garnished with a unique blend of creativity, strategy, and innovation, ensuring each client's distinct flavor permeates the market. 
---
Analyzing Key Performance Indicators of Leading Creative Digital Agencies
Key Performance Indicators (KPIs) serve as the pulse of this narrative. For leading agencies, these metrics aren't just numbers – they're insights that guide strategy, innovation, and creativity. The intricacies of data-driven success have become more pronounced, underscoring an ecosystem where creativity meets metrics, and innovation is guided by insights.
One of the notable KPIs is user engagement, a metric that underscores the intersection of design and functionality. Leading creative digital agencies excel in creating immersive user experiences that are visually enthralling and steeped in seamless navigation and interactivity. Engagement metrics, including page views, bounce rates, and time spent on site, offer a glimpse into the efficacy of digital creations.
Return on Investment (ROI) is another pivotal KPI. Creative designs are investments meant to yield measurable returns. Top agencies demonstrate their prowess in transforming aesthetic appeals into tangible business gains by analyzing conversion rates, customer acquisition costs, and lifetime value. The synergy of creative concepts and strategic marketing amplifies ROI, showcasing the tangible value of digital creativity.
Moreover, social media engagement stands as a testament to an agency's capability to resonate with audiences on platforms that are the epitome of digital interaction. Likes, shares, comments, and virality are not just social metrics but indicators of an agency's aptitude in crafting digital content that drives engagement and converts.
---
How Collaborating with a Top Creative Digital Agency Can Propel Business Growth
The business landscape is characterized by rapid technological advancements, evolving consumer preferences, and an increasingly competitive market. In this environment, the importance of strategic alliances cannot be overstated. Collaborating with a top creative digital agency is not just a partnership; it's a fusion of creativity, innovation, and strategy that propels businesses to new heights.
When a business aligns with a creative digital agency, it taps into a reservoir of creativity, expertise, and innovation. These agencies are the custodians of cutting-edge tools, technologies, and talents that transform abstract concepts into concrete business assets. They are adept at deciphering market trends, consumer behaviors, and technological advancements to craft digital solutions that resonate with the audience and align with business objectives.
Businesses of all scales, from startups to corporations, have stories of transformation attributed to their alliances with creative digital agencies. These narratives are characterized by enhanced brand visibility, amplified customer engagement, and accelerated business growth. Every digital campaign, website redesign, or social media strategy curated by these agencies is tailored to echo the business's unique value proposition, creating a distinct brand identity in the crowded digital space.
Moreover, these strategic alliances are characterized by mutual growth. As businesses flourish through enhanced digital presence, creative agencies evolve, iterating their strategies and designs based on real-world data and performance metrics. It's a symbiotic relationship where creativity and business acumen merge, fostering an environment of innovation, adaptation, and growth.
In essence, a strategic alliance with a top creative digital agency is akin to embarking on a journey of transformation. It's an investment that yields dividends in the form of brand differentiation, competitive advantage, and sustainable growth. In a landscape where digital presence is integral to business success, such alliances are not just optional – they are quintessential to navigating the intricate terrains of the digital and business worlds seamlessly and strategically.
---
Conclusion
Navigating the intricate landscape of creative digital marketing requires a discerning eye for agencies that merge artistic finesse, strategic ingenuity, and data-driven insights. These esteemed entities, armed with a melange of creativity and innovation, are not just service providers but strategic partners, essential in catapulting brands into spheres of enhanced visibility, engagement, and commercial success.
The encapsulation of their prowess isn't merely in the visual allure of their creations but in the measurable impact on brand identity, customer engagement, and return on investment. As the digital frontier continues its ceaseless evolution, the synergy of aesthetics, functionality, and strategic alignment remains the cornerstone of selecting a creative ally, pivotal in navigating and conquering the dynamic, competitive, and intricate terrains of the digital cosmos.
Frequently Asked Questions
What services do creative digital agencies typically offer?
Creative digital agencies offer a variety of services, including web design and development, digital marketing, branding, content creation, SEO optimization, and social media management, each tailored to enhance a brand's online presence and business performance.
How do I evaluate the effectiveness of a creative digital agency?
Evaluating an agency's effectiveness involves assessing their portfolio, client testimonials, industry reputation, the ROI they deliver, and their adaptability to the latest trends and technologies in the digital landscape.
Can small businesses benefit from partnering with a creative digital agency?
Absolutely! Small businesses can greatly benefit from the expertise of a digital agency in scaling their online presence, reaching a wider audience, and effectively communicating their brand message, leading to increased sales and brand awareness.
How much does it cost to hire a top creative digital agency?
The cost varies depending on the agency's reputation, the scope of services required, and the project's complexity. It's essential to get a custom quote based on specific business needs and goals.
How long does it take to see results after hiring a creative digital agency?
The time frame to see results can vary. It depends on the defined goals, strategies employed, and the nature of the project. Progress can often be observed within a few months, with significant results manifesting over a longer period.