TikTok is kind of a big deal. Since it came onto the scene in 2016, the platform has enjoyed astronomical growth, helped along quite a bit by a global pandemic hitting in early 2020. TikTok scrambled to find ways to monetize that growth, especially with no previously existing options for advertisers. In June of 2020, though, TikTok was able to offer advertising and, a few months later, launched a self-serve advertising option. This opened up advertising options on the platform, but to get the most from your advertising spend, you'll want to turn to the top TikTok ads agencies.
Lucky you, we've put together a list of our favorite TikTok ads agencies. Some of the agencies on our list are also influencer marketing agencies, but they all offer TikTok advertising services. If you're specifically looking for our picks for the best influencer marketing agencies for TikTok, we've got you covered there, too.
Before we get into our list of TikTok ads agencies, you might want to know if TikTok advertising is even right for you. Here are just a few of the reasons you might want to advertise on this large and growing platform:
---
Best TikTok Ads Agencies:
---
TikTok has a huge audience.
TikTok has more than 1 billion monthly active users (though, according to a leaked pitch deck in April 2021, that number is said to be 732 million) — and the number of users on the platform is growing every day. It's available in 150 countries and hosts 75 languages. As COVID-19 continues to be a problem throughout parts of the world, people are turning to social media, increasingly TikTok, for both entertainment and to feel connected with others.
Plus, while TikTok users tend to be younger (48% of the app's US users are under the age of 30), more and more older people are finding themselves heading to the platform. As of March 2022, 22% of the app's US user base was 30–49-years-old and 14% of users were over the age of 50 (Statista).
---
TikTok users are super engaged.
Having a large audience by itself isn't much to brag about. But TikTok users are actively engaged on the platform through creating or watching videos. According to HootSuite, Android users spend an average of 19.6 hours on TikTok each month, putting it in fifth place among social media apps after YouTube, Facebook, Whatsapp, and Instagram. And, according to that previously mentioned leaked pitch deck, TikTok users open the app an average of 19 times every day and spend an average of 89 minutes per day on the platform.
---
You can show off a different side of your brand.
Brand voice is important. It's a huge part of your brand's identity and how you communicate with your customers. It's also becoming increasingly important for consumers to see your brand as authentic. And that's where TikTok can help. Many TikTok users head to the app for funny and entertaining content, giving brands a unique opportunity to connect with consumers in ways that other platforms and channels can't offer. Just take a look at the NBA, Chipotle, and The Washington Post to see how brands are maintaining their reputations while still showing off their personalities.
---
---
---
---
---
---
---
---
---
---
---
---
---
---
---
---
---
---
---
---
---
---
---
TikTok Advertising Best Practices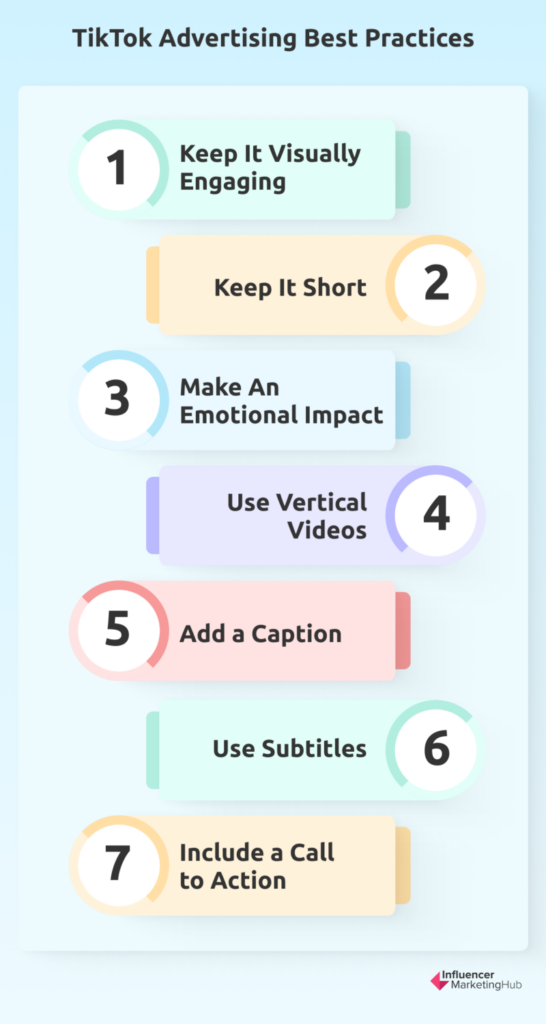 Want to go it alone? With TikTok's self-serve ad platform, you have the power to create ads all on your own. So, before we sign off, we wanted to make sure that you have a better grasp of TikTok advertising best practices. This is helpful even if you do decide to hire an agency, by the way, since you'll be able to make sure the TikTok ads agency you bring on is following them. Let's dive in.
Keep It Visually Engaging
People turn to TikTok to be entertained. It's so important to keep your ads visually appealing, engaging, and interesting. The benefit of TikTok ads is that they look almost exactly like the organic content on the platform. That means, if your ad is fun and engaging, you're more likely to keep viewers engaged to the end, which is great for TikTok's algorithm.
Keep It Short
TikTok is a short-form video content platform. While the allowed video length has recently been increased from 60 seconds to three minutes, shorter is still better — especially for ads. We recommend keeping your ads much shorter than even the original 60-second limit, at 9–15 seconds. Use your time to get in, highlight the life-changing benefits of your product, and get out, leaving them wanting more.
Make an Emotional Impact
As with any advertising platform, you'll want to make sure that your TikTok ads pack an emotional punch. This doesn't mean that you want your viewers to cry their eyes out, but you want to reach them on some type of emotional level. This might look like short, situational videos that really highlight the transformation your product offers.
Use Vertical Videos
TikTok is built for smartphones so you can do either horizontal or vertical videos. However, we highly recommend sticking with vertical videos. Vertical ads are less disruptive to the viewer's experience, which may seem counterintuitive. After all, you want people to see your ads, right? But forcing viewers to turn their phones to view your ad can be incredibly irritating and leave them with a bad feeling about your brand.
Add a Caption
You don't have a lot of space for captions in TikTok, but you should still use the space that you have to share vital information about your brand and product so viewers can get an idea about what you're offering even if they don't watch your entire ad. Over time, your brand will still benefit from brand awareness even if nobody watches your full ad.
Use Subtitles
While audio is enabled on TikTok by default, there are users who are deaf or hard of hearing who rely on subtitles to understand content on the platform. And, not everyone has their sound on. So, instead of missing out on a decent chunk of potential customers, just add subtitles to your videos.
Include a Call to Action
Your TikTok ads should always have a call-to-action (CTA). This lets viewers know what steps you want them to take after watching your ad (signing up, making a purchase, learning more, etc). Without a CTA, your viewers aren't going to know what's expected of them and if they don't know what's expected of them, they aren't going to take any action at all.
---
Choose the Best TikTok Ads Agency for You
That's it for our list of the top TikTok ads agencies. It's by no means an exhaustive list, but if you're looking for a top-notch solution to your TikTok advertising woes, this list is the perfect place to start.