When Facebook acquired Instagram back in 2012, the world's collective jaw dropped at the $1 billion purchase price. A little over 4 years later, that purchase is looking like the smartest thing Facebook has done since its inception. Consider these statistics, courtesy of brandwatch.com:
Ad revenue for 2017 is projected to reach $2.81 billion.
User engagement with brands is 10 times higher than on Facebook, and 84% higher than Twitter.
50% of Instagram's users follow at least one brand.
70% of the most used hashtags are branded.
Add to this picture the fact of Instagram's new shoppable photos feature and it becomes apparent that the platform is going to dominate the social marketing landscape in the coming years. With all this attention on Instagram for business, though, comes a downside. Brands are going to have to work harder than ever to get noticed, let alone sustain engagement. What's bad news for brands is good news for influencers, though. There are over 500 million active users on Instagram, and companies are going to have to increasingly funnel their message through influencers if they want to reach the right audience.
2017 will be a kind of gold rush for influencers, as brands will race to stake their claim on as many and as diverse a group of them as possible. With that rush will come the need for the right tools to locate and vet new talent, while needing to manage multiple campaigns and the people involved. With this in mind, finding a decent influencer marketing platform becomes of paramount concern. Keep in mind, though, if you're targeting Instagram as your platform of choice, simply searching for the "best" ones won't do. Some platforms are better than others when it comes to finding the stars who shine brightest on Instagram.
Here are the top Instagram Influencer Platforms you should check out:
---
Summary: Quick Jump Menu
---

Founded by the so-called "Queen of Instagram"—Greta van Riel—Nichify is its own social network, where brands and influencers can meet, chat, create, and collaborate on promotional campaigns. The service's mission is to transfer power away from the major social platforms and into the hands of the influencers.
Part of this has to with the overwhelming amount of noise that influencers deal with on social media itself. Someone with hundreds of thousands of followers is bound to receive tons of offers everyday, often by marketing neophytes who don't quite know how to play the game. Nichify aims to eliminate that noise by making a safe space for brands and influencers to find each other. Influencers maintain their profiles, list their niches, and carry a Nichify rating that can be used to measure their reach and impact. Brand profiles also carry a certain amount of built-in vetting—like recommendations or even just the number of followers—so influencers can easily understand who they're dealing with. Nichify also includes a collaborative toolkit for creating deals and campaigns.
---

Instabrand is more of a creative agency, acting as a kind of middleman between brands and influencers. This makes a lot of sense, given their stated goal of "making ads more human." Instabrand clients can use their "Intermix" search engine to find collaborators, which contextualises an influencer beyond the number of followers she has and the verticals she aligns with. Their database of over 100,000 influencers cross references keywords and post performance, analyses engagement rates and locations—it's a big data engine for finding the perfect marketing match. By drilling down into each profile, Intermix is able to reveal influencers on any platform clients want to hit while filtering for other criteria.
This is not a self-service company by any means, though, so if you're looking to just find your talent and then execute on campaigns, Instabrand won't be a good fit. On the other hand, if you want a company that's going to manage your marketing with a human touch, with a core of technology that both defines and reports on the campaigns, Instabrand has plenty going for it. They describe themselves as a "mobile-first influencer company," and as such place greater emphasis on mobile-only platforms like Instagram and Snapchat.
---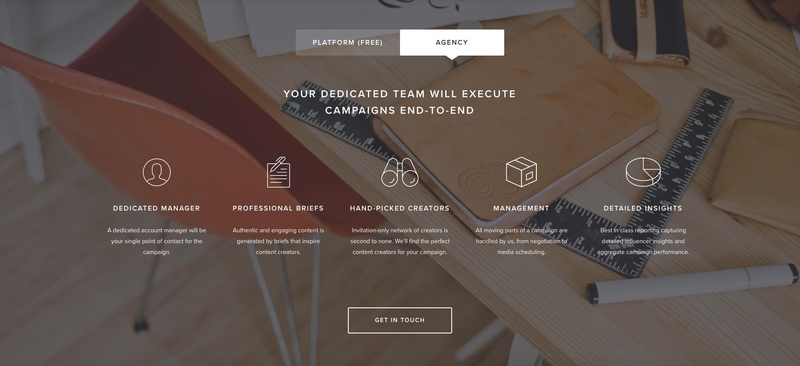 An agency that sits on top of a platform, Hypetap gives brands the best of both worlds—one world at a time. By that, we mean that a company can choose to do their own marketing and have access to the software platform, or choose to go through their agency and have the whole processed managed by Hypetap team.
The platform offers the kinds of tools you'd expect: data-driven lists of influencers who aren't just sitting on a pile of followers, but are creative forces in their own right. In fact, the Hypetap talent pool is among the smallest we've seen—less than 2,000 influencers. But this shouldn't be seen as an obstacle. Hypetap's influencers are there by invitation only. Once they're in the system brands (or Hypetap's own agency) can easily search through available influencers without scrolling through page upon page of possible matches.
Another selling point for brands and influencers is the free access they get to the platform. There are no fees for creators to sign up; likewise for brands looking to skip the agency's help and work on their own. Brands post campaign briefs and describe their ideal target audience. From there they can search for influencers, or—just as likely—influencers will find them. Rates are negotiated, terms are set, content is created, campaigns are executed, and everyone wins. Including Hypetap, which takes a 10% cut of the deal. There's also a DRM component, where digital rights for any content are assigned at the execution of a campaign. This is especially important for Instagram content, as a stunning photo can have a much longer shelf life than a written piece.
---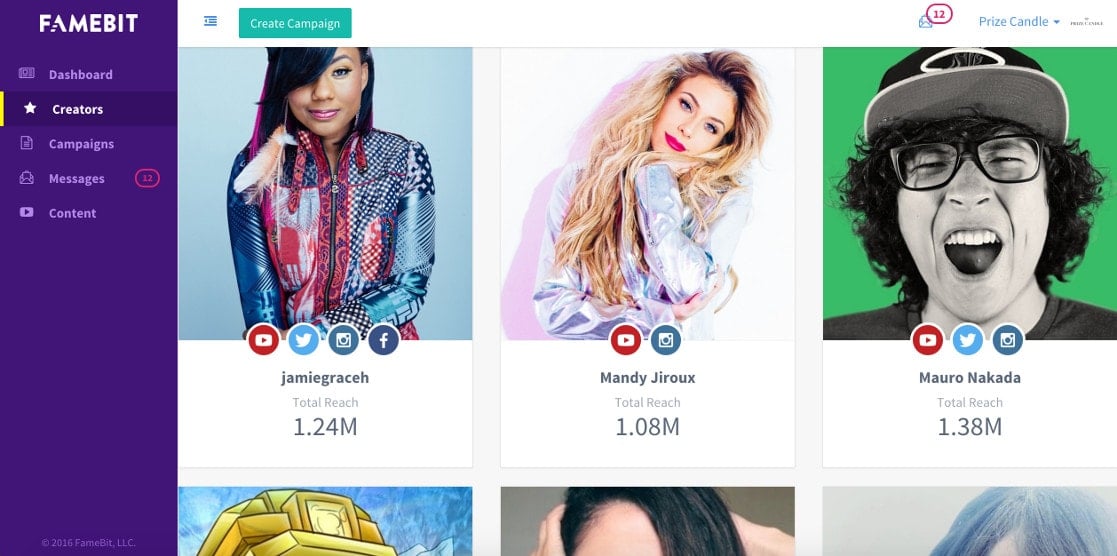 We've profiled this company before, but they deserve another mention here. Famebit is fairly no-frills in its offering: a basic platform where brands meet influencers and contract out the content they need created. Everything about the way Famebit markets itself, though, tells you everything you need to know about the platform. Their talent and focus skews young, as do the campaigns that are born on Famebit. Videos, comedy sketches, fashion photography, tutorials—brands looking to reach out to the younger, disposable-income-having audience that dominates Instagram are going to find great matches here.

How To Measure Influencer Marketing ROI
The Complete Brand Marketer's Guide
Get The Free eBook
Like Hypetap, there's no fee to join, and the platform serves a meeting ground for potential collaborators. Famebit is more open in who they let on to the platform—be prepared to search through a much larger pool than Hypetap is offering—but they've put such tremendous effort in styling their own brand to attract the right talent, it's not surprising they've got a happy roster of companies using their services. There's something to be said about a company that's clever enough to effectively market their own marketing platform, which makes Famebit definitely worth a look.
---

And speaking of companies that are effectively marketing their wares, Tribe rounds out our list as a must-see for companies looking for Instagram influencers. The website looks more like an Instagram feed of attractive young people having the time of their lives. But underneath that all is Tribe's clever use of a mobile app to bring engaging content to brands.
Tribe's users, the influencers, use an iOS app to generate content for brands that they love—most often a simple mention. If you've got 50,000 followers and are about to post a picture from Times Square in NYC: hold off. Post that picture to Tribe instead, and see if Coca-Cola will pay you for having their logo in the background, with a mention. That's the basic premise of Tribe. It's not focused on long term campaigns or promotions, but one-off shout-outs that brands can use to gain some attention. Of course, billboards in the background is just an example, and not a good one if you're an influencer looking to make cash. You'll do better when a product is featured in the post and it comes across as organic occurrence.
Right now, the app is focused on Australia, but as it picks up steam—especially with global brands—look for it to spread beyond the great Down Under.