The use of artificial intelligence (AI) in marketing has hit the mainstream. You would be hard pressed to find companies—big and small—that don't use top AI marketing tools to promote their brands or businesses.
If you're a blogger, an e-commerce entrepreneur, or an affiliate marketer, taking advantage of AI-powered marketing tools should be a part of your business game plan. With it, you can run and put together an effective marketing strategy that would allow you to hit your goals faster.      
What is an AI Marketing Tool?
An AI marketing tool is a software or platform that uses artificial intelligence technology to create automated decisions. These decisions are based on collected data that's analyzed and interpreted together with the market trend. The goal is to develop a marketing strategy that anticipates the buyer's next move. 
All of this is done in real time without the intervention of an actual human. It's this capacity to make automated decisions at lighting speed that makes AI marketing tools for business so formidable.
---
Best AI Marketing Tools You Should Be Using Today
---
---
---
---
---
---
---
---
---
---
---
---
---
---
---
---
---
---
---
---
---
---
---
---
---
---
Why Use AI-Powered Marketing Tools? 
Speed is the number one reason why artificial intelligence marketing tools should be present in every business. An AI tech crunches huge chunks of information taken from platforms like social media, email, and the Web. It also bridges the gap between the data and the actionable solutions you can implement to improve your marketing and sales campaigns. 
---
The Benefits of Using AI in Marketing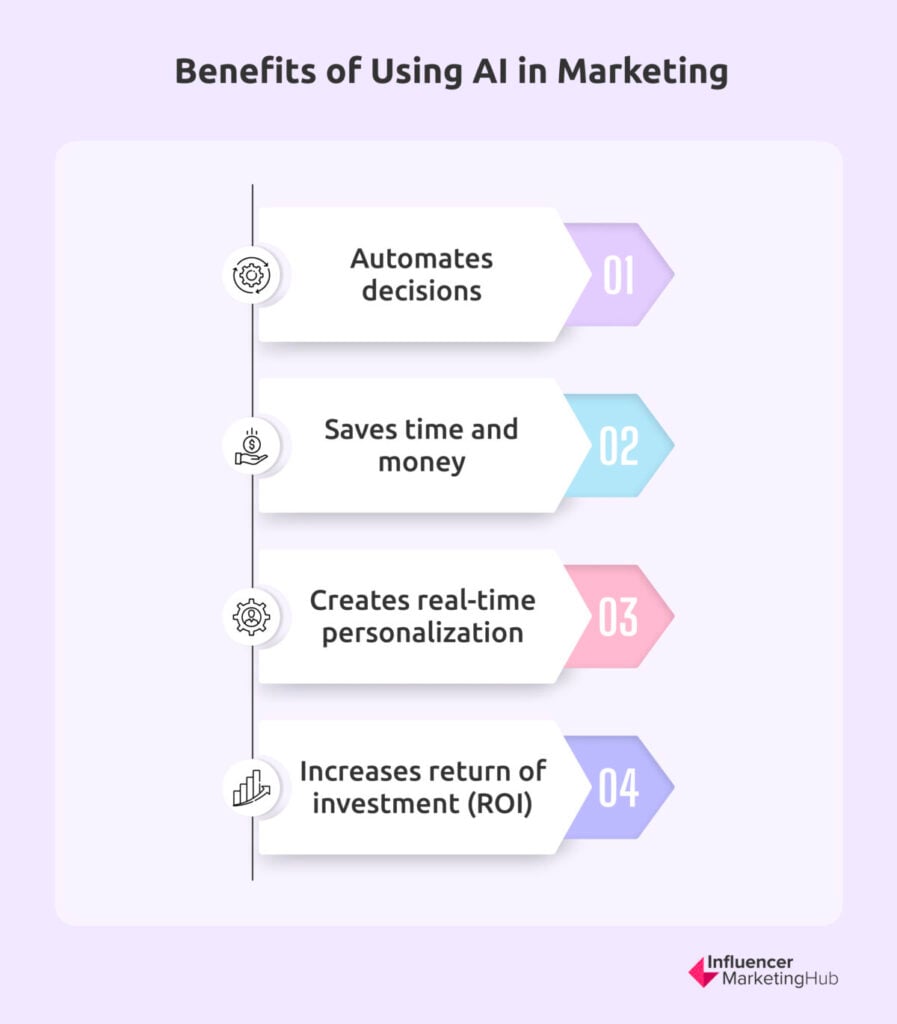 Automates decisions 
One of the biggest benefits of AI marketing technology is it can automate data-based decisions in an instant. Data is everything in marketing. It can show you how your customer would react to your message or tell you the best strategy to use for your email marketing campaigns. 
Saves time and money
Every business wants to save money when running marketing campaigns. An AI marketing tool may require initial investment, but it pays in dividends by giving you cost savings. It allows businesses to work fast and efficiently without having to pay for staff to do the manual work. Instead of hiring a full team, you can focus on recruiting employees to perform critical tasks. AI tech also lessens human error.
Creates real-time personalization
Customers expect you to know what they want. One way AI marketing tools can help out is by adapting your sales and marketing strategy to generate a personalized experience for any specific customer. Artificial intelligence can use predictive analysis to gain a better understanding of the customers behavior and buying habits. This is the same thing Google, Netflix, and Instagram use to give you recommendations to watch or suggest posts.
Imagine the possibilities of being able to guide customers to a specific product or service based on their previous interactions with the company. Creating a personalized experience allows them to build a relationship with your brand. In fact, today's consumers expect brands to offer a tailored message instead of a generic one. 
Increases return of investment (ROI) 
Smart marketing tools such as this allows marketers to maximize the information produced without wasting money on other campaigns.
In addition, AI technology provides deep customer insight and shows you what your buyers want. It also groups warm leads and guides them to move forward, ultimately leading to a sale and an increased ROI for your business. 
---
How to Use Artificial Intelligence (AI) in Marketing 
From forecasting sales, generating content, to improving the customer experience, there are countless ways to use top AI marketing tools for your business. Here are a few suggestions: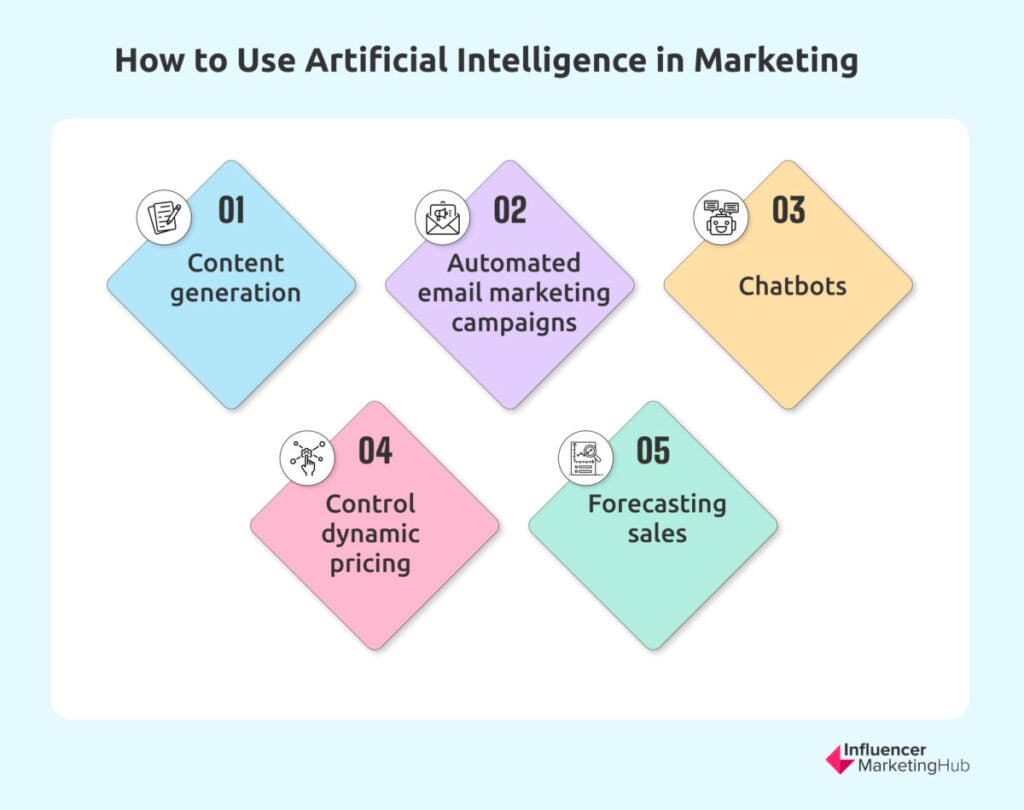 Content generation
The main driving force for digital marketing is content. Without it, it would be hard for companies to sell their products or convince consumers to make a purchase. Writing and generating content can take several hours a day. Marketers need to plan their targets, write the copy, edit, then distribute it at just the right time to create maximum impact. 
AI marketing tools can help in this regard by streamlining the content generation process. It can automate messages or improve engagement using various social media marketing platforms. 
Automated email marketing campaigns
The best AI email marketing tools allow marketers to produce effective emails that engage customers and maintain brand relationships without effort. Emails are one of the most repetitive tasks in marketing. With an AI tool, businesses can cut back on the time spent researching, creating, and testing email content. 
Chatbots
An AI chatbot is perfect for nurturing a lead. When set up correctly, a chatbot can create a better customer service experience. These bots can answer repetitive questions like price or the availability of a product or service. If more complicated answers are required, they can be forwarded to a customer service agent. Chatbots also help ensure that customers won't feel ignored when they want to reach out to you.
Control dynamic pricing
Dynamic pricing happens when the price of a product or service is changed based on the market condition and the supply or demand of the item. 
AI-powered tools can use this pricing strategy to gain better margins, as it allows retailers to update their prices several times a day. Dynamic pricing is best exemplified in hotel booking websites or airline companies where the prices go up or down depending on availability. 
Forecasting sales 
To thrive, businesses need to have target revenues and find a way to ensure this goal is achieved throughout their campaign period. The application of AI marketing programs lets marketers understand and estimate possible sales based on their customer data and their past shopping behavior. 
This predictive insight allows businesses to know which products will become a top seller, how many they should stock to avoid inventory issues, or which items they need to promote further.  
---
Wrapping Up
Machine learning and AI marketing isn't new. For years, companies have always looked towards technology to apply improvements in their work systems and draw actionable insights to improve revenue. But now, with an increasingly digital landscape, the use of top AI marketing tools is deemed a necessity and no longer a luxury. 
As a business, it's important to leverage AI marketing tools to create a sustainable, forward-thinking brand designed to last for years to come.