Many businesses prefer to outsource their marketing to an advertising agency. They might be too small to warrant investing in an in-house marketing team. Alternatively, they may be large and have a sufficient budget to leave their marketing to the experts. Influencer marketing, however, is entirely different from most forms of traditional marketing, and many general-purpose advertising agencies have yet to take the leap into this new territory. This has left space for specialist influencer marketing agencies to set up and fill the void.
There are undoubtedly many influencer marketing agencies worldwide. Of course, the online nature of the industry means that many of the agencies take custom from anywhere in the world.
---
2022's Top Influencer Marketing Agencies You Have to Know:
---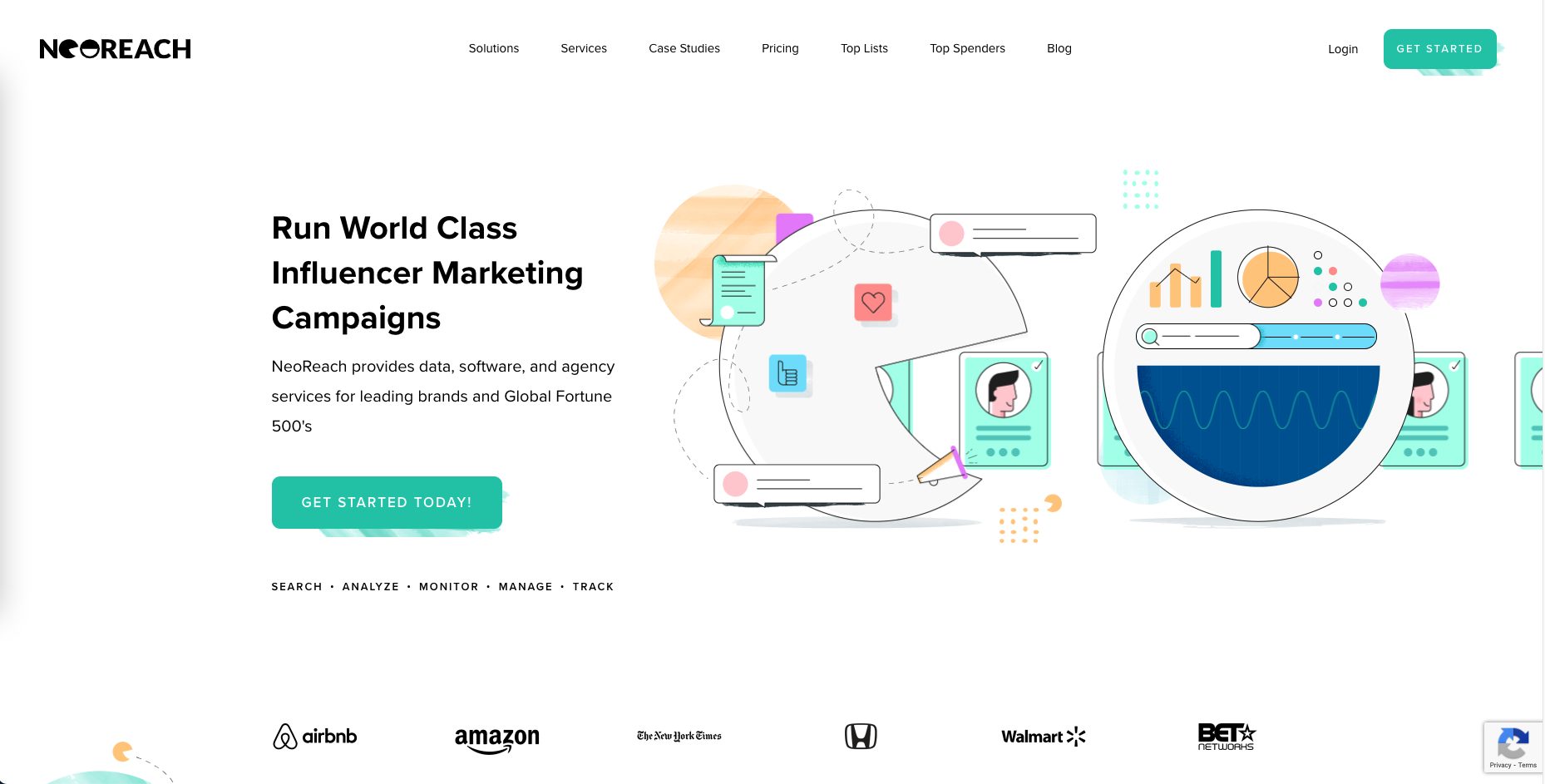 Influencer Services Offered: Influencer Marketing, Social Media Marketing, Social Media Management, Digital Marketing, Full-Service Production.
Social Networks Catered for: Facebook, Instagram, LinkedIn, Pinterest, Snapchat, TikTok, Twitch, Twitter, YouTube, Blogs.
Offices: Los Angeles, Orlando, Tokyo.
NeoReach creates world-class original influencer campaigns for leading brands and Global Fortune 500s. It highlights brands like Airbnb, Amazon, The New York Times, Honda, Walmart, and BET Networks as clients. The agency has managed over $250 million worth of influencer marketing campaigns to date.
As with a few other agencies in this list, Neoreach caters to two distinct markets. First, they offer a full managed service to brands looking for an influencer agency. However, they also cater to do-it-yourself brands, wanting the tools of a platform to make their task easier.
As an agency, Neoreach handles influencer sourcing, performance reporting, and everything in between. Their team integrates with clients to ensure proactive, real-time communication while creating authentic, data-driven campaigns that get to the heart and soul of a brand's story. They begin with your goals and reverse engineer a launch strategy derived from a myriad of data, including competitor audits, audience demographics matching, and channel-specific opportunities across all major social platforms.
Once they know precisely whom they should look for, Neoreach's experts help find the perfect influencers for your campaign. They select creators with an intentful fan base backed by deep relationships with influencers as well as management companies, talent managers, and more.
The agency team then manages the entire influencer campaign process, including influencer introduction, contract negotiation, deployment, shipping, payments, and maintaining ongoing relationships for future activations. They syndicate influencer content across a wide range of organic and paid media. The team defines ad auctions, budget allocations, offers, copy, creative, and more based on ROI across all major ad channels.
---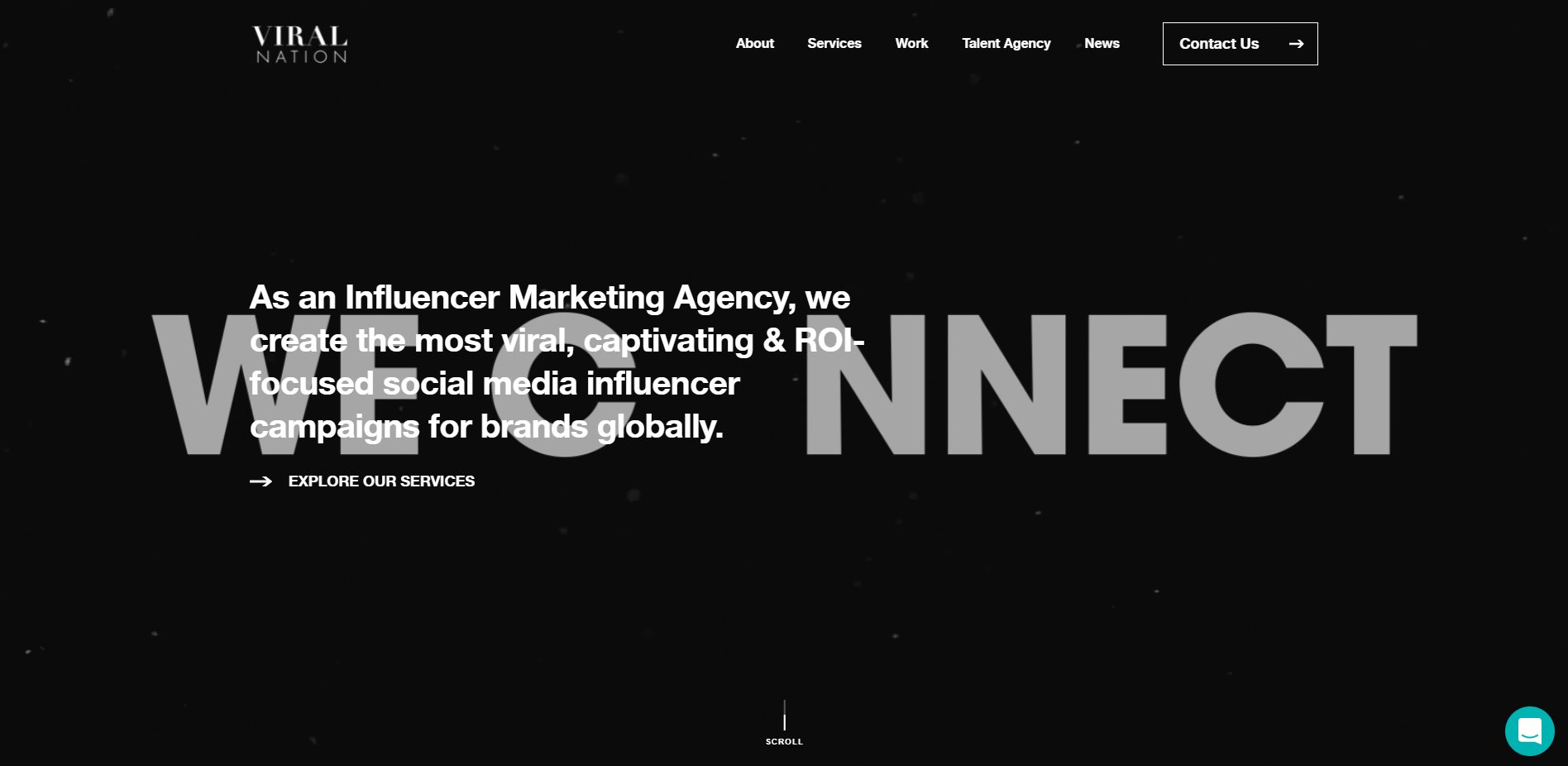 Influencer Services Offered: Influencer Marketing, Social Media Marketing, Social Media Management, Content Creation, Community Management, Full Service Production.
Social Networks Catered for: Facebook, Instagram, Snapchat, Twitter, YouTube, Twitch, TikTok.
Offices: New York, Toronto
Viral Nation believes that it creates the most viral, captivating and ROI-focused social media influencer campaigns for brands globally. It takes on both sides of influencer marketing, acting both as an influencer marketing agency and as an influencer talent agency.
Mathew Micheli and Joe Gagliese co-founded Viral Nation in 2014. They believe they have cemented their place as trailblazing entrepreneurs and thought leaders in the influencer marketing industry. Indeed, Marketing Magazine included Micheli and Gagliese in their Top 30 under 30 of 2016.
More recently, Chief Marketer included Viral Nation in their list of Top Marketing Agencies of 2019.
Viral Nation recently created successful campaigns for Angry Birds 2, RED, and Apple.
It has set itself the mission of creating compelling and captivating content that shapes lasting emotional connections between brands and consumers.
Viral Nation is a top influencer talent agency, professionally representing and securing endorsement deals for many of social media's top creators. Its talent agency services include brand endorsements, professional representation, and legal services.
By working with both brands and influencers, Viral Nation has a real advantage when it comes to matching the best influencers to the most suitable campaigns for them.
Viral Nation also offers full social media content creations services. It wants its content to shape long-term emotional connections between brands and consumers.
---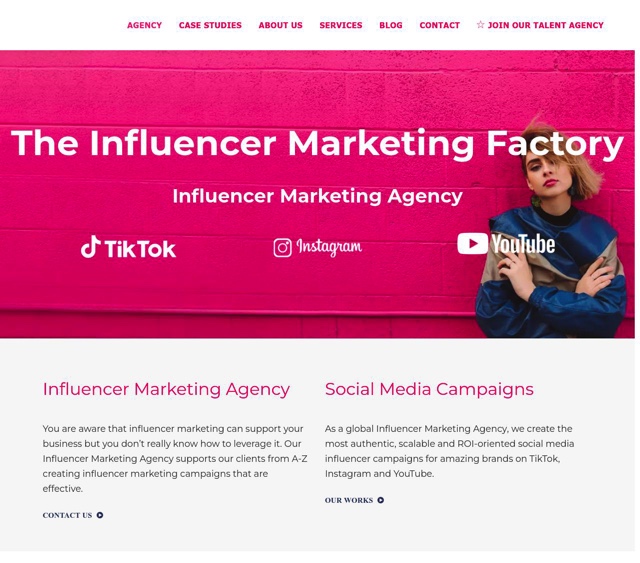 Influencer Services Offered: Influencer Marketing, Social Media Marketing, Social Media Management, Digital Marketing, Content Marketing, Content Creation.
Social Networks Catered for: TikTok, Instagram, YouTube.
Offices: Miami, FL – New York, NY
The Influencer Marketing Factory is a global influencer marketing agency that helps hundreds of companies from Fortune 100 brands to startups to engage with Gen Z and Millennials on TikTok, Instagram and YouTube.
It begins with analyzing its client's goals and KPIs so that it is clear what the client wants as the outcome of their influencer marketing campaign.
The second stage is to determine who the brand's target audience is – looking at current and potential customers.
The Influencer Marketing factory then works to match relevant influencers to brands, depending on audiences and goals.
The Influencer Marketing Factory next works with influencers to create content that tells the right kind of story.
Finally, it uses its tools to calculate the ROI of each influencer campaign. It provides extensive reporting, analytics, and metrics, related to the client's initial goals.
---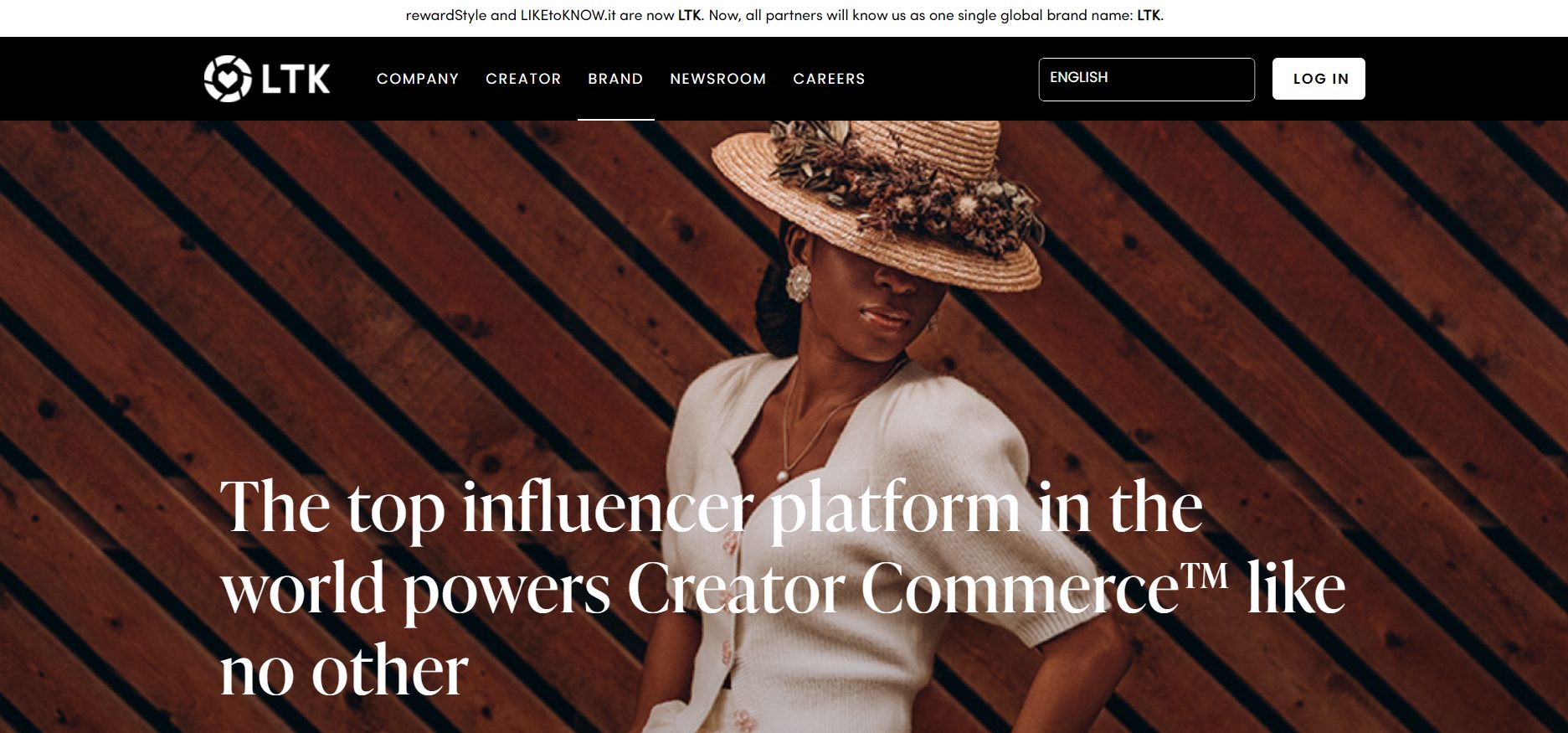 Influencer Services Offered: Brand Consulting, Advanced Audience Reporting, Historical Brand Performance Data, Content Creation, Creator Shopping Channel, Influencer Research and Casting.
Social Networks Catered for: Facebook, Instagram, Pinterest, TikTok, YouTube, Blog.
Offices: Teams are based in the US, China, Brazil, Germany, France, Australia, and the UK.
LTK (formerly called rewardStyle) is built on creator innovation and innovative tech. They bring shoppers, brands, and creators together by the means of the power of distributed original content.
Amber Venz Box and Baxter Box co-founded LTK in 2011 in a studio apartment in Dallas, Texas. Fast-forward just over a decade and they've cemented their name as one of the leading names in influencer marketing with offices across multiple continents.
Their services are geared to both creators as well as brands. If you're a creator, their set of mobile and desktop tools can help you with creating, distributing, and tracking your content across channels. If you're a business, they can help you to grow your brand by linking you with top-performing influencers and managing all aspects of your influencer marketing campaign.
As commissioning a creator is much faster and more efficient than working with an in-house creative team, working with one of LTK's premium creators can help you to grow your brand's audience, reach, social engagement, and sales. For example, Missguided, a well-known fashion brand, almost doubled their sales in just a single year.
---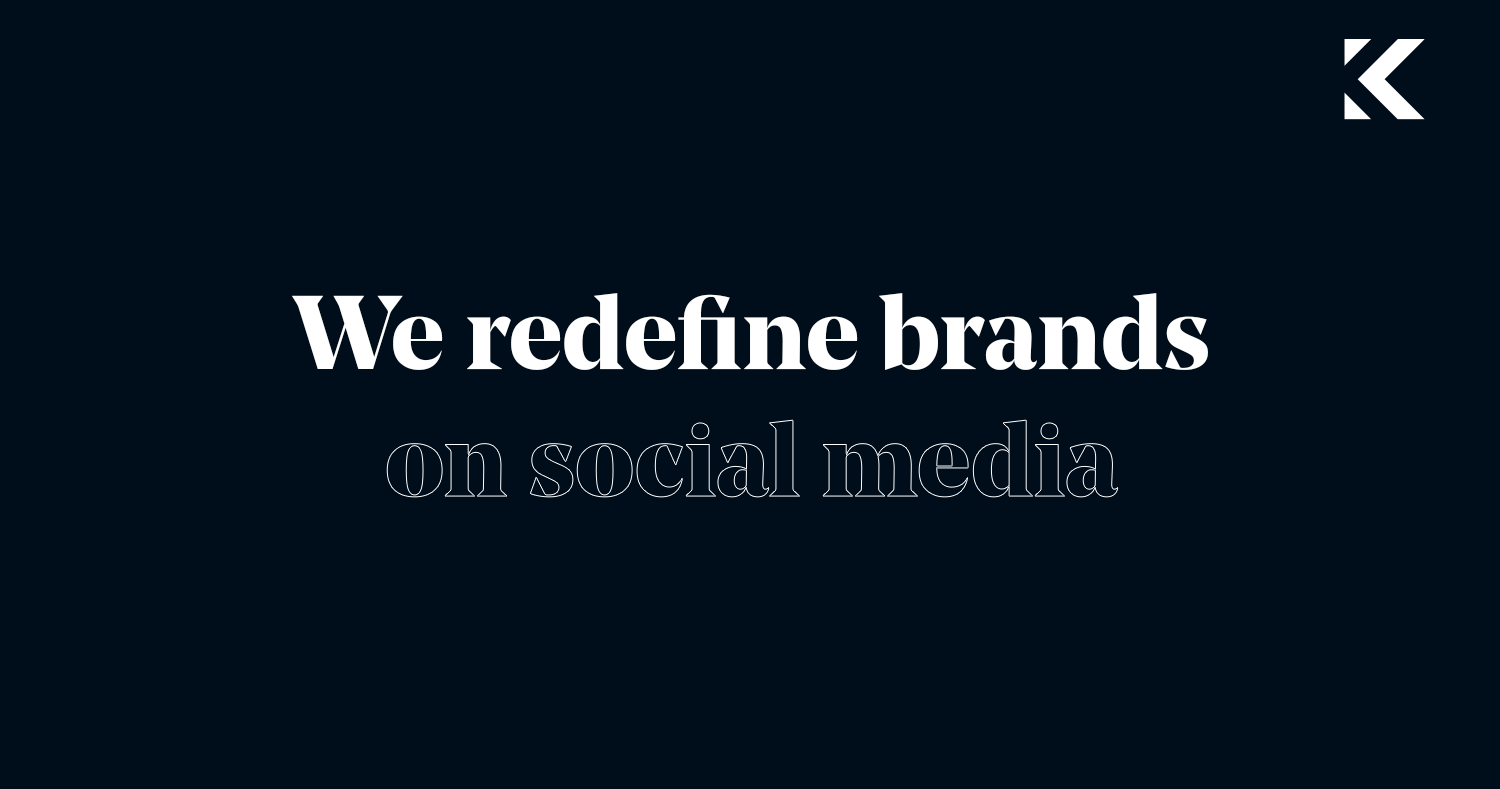 Influencer Services Offered: Influencer Marketing, Social Strategy, Creative & Content Strategy, Gaming & ESports Strategy, KLabs: Data & Insights, Design & Production.
Social Networks Catered for: Facebook, Instagram, Twitter, YouTube, Twitch.
Offices: London, Manchester, Los Angeles
London-headquartered Kairos Media is a social-first creative agency which has designed a unique 360-degree approach to social media, combining the science (data) with the art (creative).
Launched in 2015, Kairos Media has since grown rapidly and has worked with some of the world's biggest brands including KFC, Facebook, Samsung and Kraft-Heinz. The agency has also established strong relationships with over 75,000 influencers across 55 countries, covering over 20 languages.
With an aim to create an authentic place on the internet for brands looking to reach Millenials and Gen Z consumers, Kairos designs, builds and executes creative strategies that benefit from more than 5x the success of "old school" media buying.
---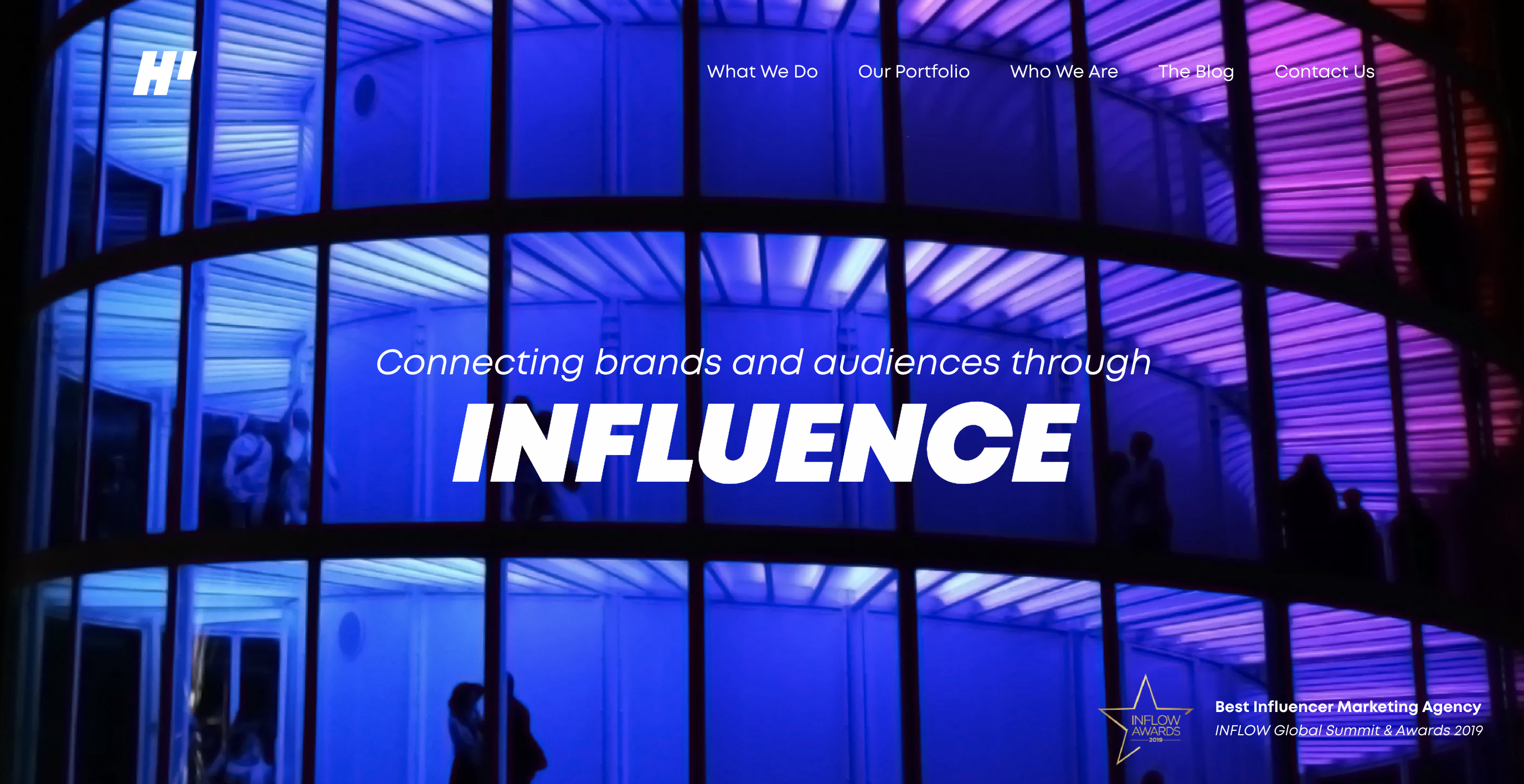 Influencer Services Offered: Influencer Marketing, Social Media Marketing, Social Media Management, Digital Marketing, Content Marketing, Content Creation, Full-Service Production.
Social Networks Catered for: Blog, Facebook, Instagram, Snapchat, Twitter, Pinterest, YouTube.
Offices: Houston, Los Angeles, New York
HireInfluence describes itself as a white-glove influencer marketing agency that unites brands with respected voices and digital audiences across the globe. Since it set up shop in 2011, it has engaged thousands of elite influencers, from across 12 countries and 7 industry verticals, on behalf of the brands and agencies it represents.
It sees its specialty as transforming clients' visions into captivating digital content.
HireInfluence believes in customizing its services to meet each client's objectives. Amongst the services the influencer agency offers are:
All-inclusive content strategies – it manages every step of the process with clients' goals and objectives as the driving force behind everything it does.

Influencer casting and placement – it uses its own influencer database and sourcing methodology and validation processes to ensure that clients use the best influencers for their project

Event on-site engagement support – HireInfluence believes that on-site posting by influencers is an effective way to engage a target market

Creative influencer experiences – it brings creative promotional experiences to life, e.g., head-to-head challenges, travel experiences, and product demonstrations

Ongoing UGC creation and promotion – HireInfluence is happy to work with clients to originate and manage long-term UGC strategies, content distribution, and retargeting plans.

Brand consulting and training services
---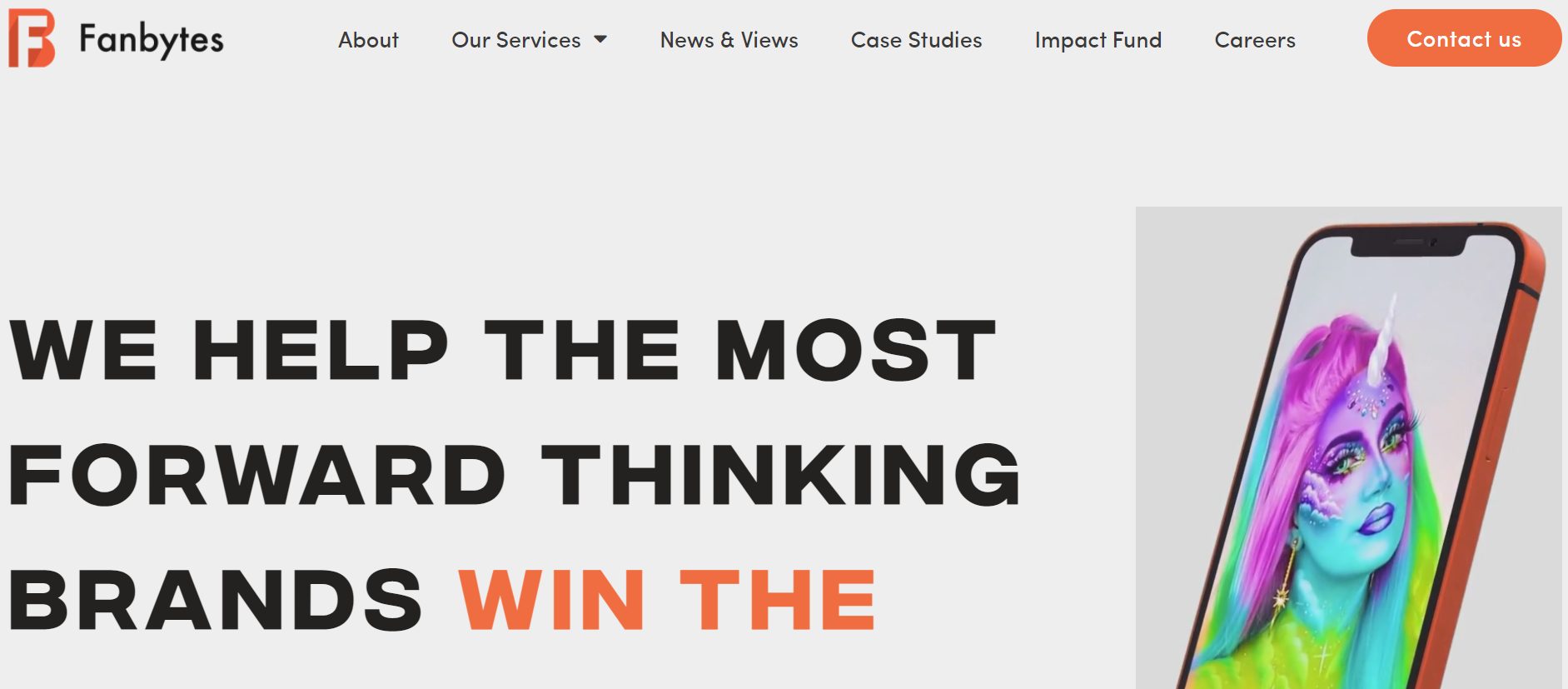 Influencer Services Offered: Influencer Marketing, Social Media Marketing, Digital Marketing, Talent Management.
Social Networks Catered for: Instagram, Snapchat, TikTok, YouTube.
Offices: London (UK)
Fanbytes describes themselves as a team of social media and influencer marketing experts, helping brands to engage Gen Z audiences in the most interactive ways on the planet. The company's founders built Fanbytes to be the Gen Z agency for Gen Z brands. They proudly proclaim that they know what Gen Z wants from branded content, know how they're behaving on social, and know how to reach them on their native platforms. To date, Fanbytes has created and managed more than 2000 campaigns for over 500 brands.
Fanbytes operates an influencer platform that they use to find suitable influencers for the campaigns they run on behalf of their clients. All their activations are run from their platform. Brands have a central dashboard to approve influencers and content, condensing a process that conceivably might take days to a few hours.
In addition to helping brands find the right influencers, Fanbytes's creative strategy team proposes unique creative ideas for influencer-led branded content that consistently smashes engagement averages. In addition, their in-house paid social experts know how to amplify influencer-led creative to get millions of eyeballs on your campaign, both through organic and paid social campaigns.
Fanbytes has a particular affinity with TikTok and built Bytesights, a massive dataset of over 3 million TikTok influencers. They use this data to uncover insights into what Gen Z is thinking, talking, and posting about.
Fanbytes has a talent management arm, Bytesized, that manages over 40 of the UK's biggest and best Gen Z content creators. Bytesized creators provide brands with direct connections to their hugely engaged Gen Z audiences. Fanbytes clients can tap into Bytesized managed talent at any point.
---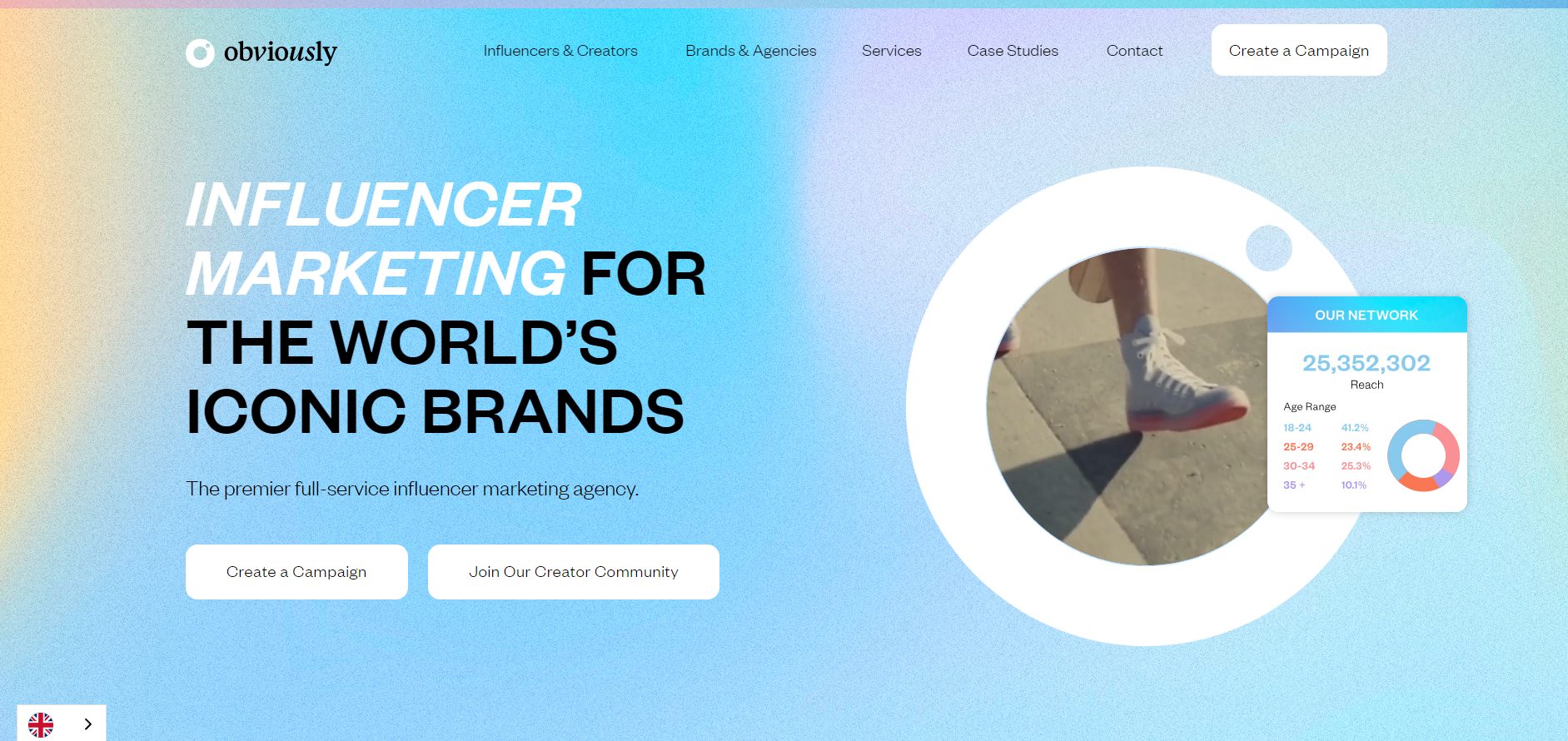 Influencer Services Offered: Influencer Identification, Content Creation, Campaign Management, Reporting and Analysis, Custom Campaigns, Social Media Marketing, Influencer Marketing
Social Networks Catered for: Instagram, YouTube, TikTok, Blogs, Facebook, Pinterest, Snapchat, Twitch, Twitter
Offices: San Francisco, New York, Paris
Founded in 2013 by Mae Karkowski, Obviously (or Obvious.ly) has since become one of the fastest growing influencer agencies not only in the US, but also worldwide. It currently works with more than 400,000 influencers globally, ranging from micro-influencers to celebrity influencers, and specializes in fashion and lifestyle domains. This influencer marketing agency has also worked with Fortune 500 companies and some of the world's largest brands, including Google, Ulta, Lyft, Amazon, Loreal, and Jimmy Choo.
One of the things that makes Obviously stand out is how it leverages data and technology to create high-impact campaigns. It uses proprietary technology that gives clients and partners access to critical information such as real-time updates, customer insights, comprehensive reporting and identified common themes that are transformed into data you can easily understand.
As a full-service influencer marketing agency, Obviously guides you in every step of the way and creates a curated and personalized campaign that best suits your unique needs and follows a strategic process for all of its influencer campaigns that includes; strategic ideation, campaign kickoff, influencer identification and selection, shipping and fulfillment, influencer communications, content creation, approval and posting, analytics, paid amplification and optimization.
Obviously also runs an influencer community called Obvious.ly Studio. This enables influencers to find brands they want to work with and further expand their reach. In Obvious.ly Studio, influencers work with an individual campaign manager, one of the aspects that differentiate Studio from other communities and platforms.
Another great thing about Obvious.ly Studio is it gives influencers a lot of creative freedom. If you're an influencer, you're encouraged to use your own voice and style. However, you still need to meet a few requirements and guidelines.
---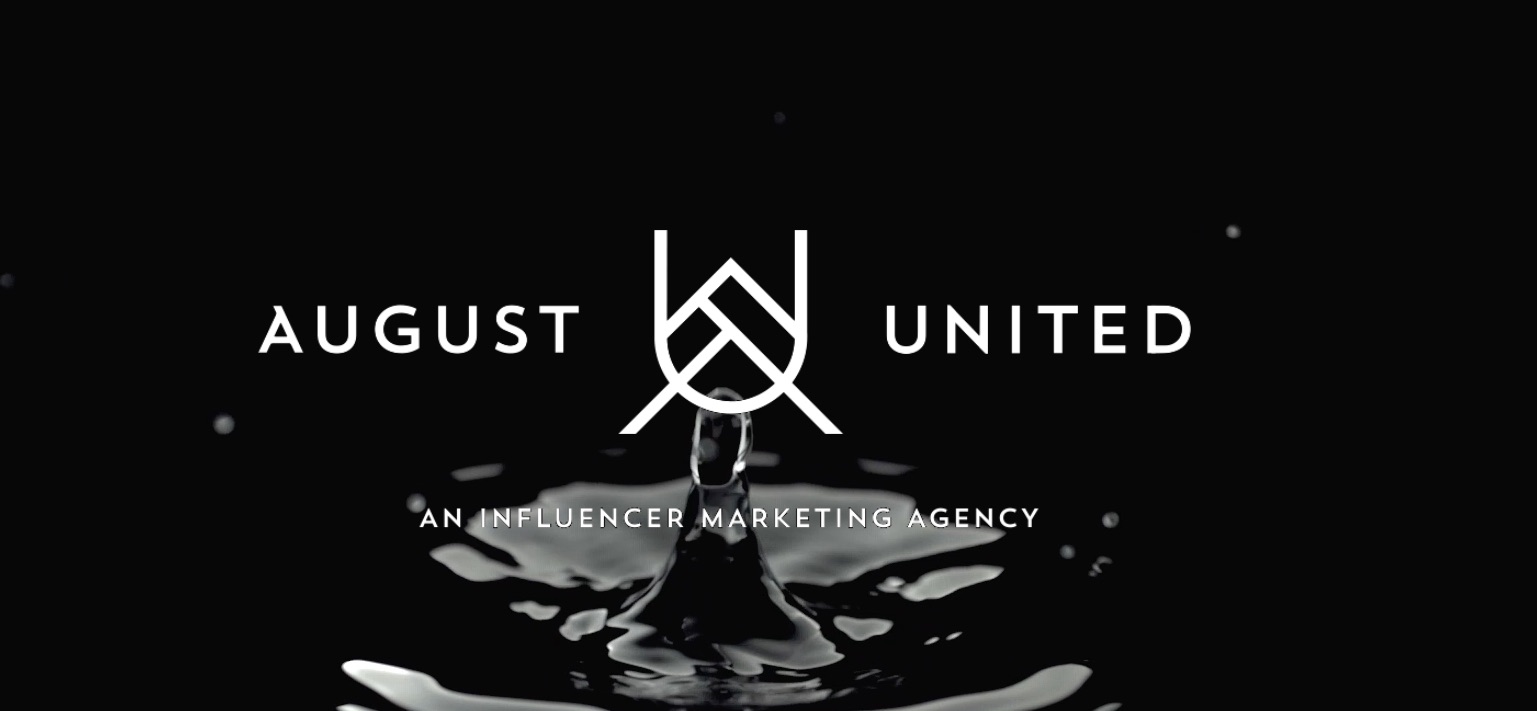 Influencer Services Offered: Influencer Marketing, Social Media Marketing.
Social Networks Catered for: Blog, Facebook, Instagram, Snapchat, Twitter, Pinterest, YouTube.
Offices: Tempe, AZ
August United uses influencers to create a ripple effect on its clients' marketing.
It offers three ways to help create that ripple for its clients:
Influencer strategy

Influencer activation

Network development
With the influencer strategy, August United provides a structure for identifying influencers, develop campaign concepts, and maintain guardrails to create a sustainable influencer marketing strategy.
They then help brands activate influencers to amplify marketing campaigns through authentic content. This grows awareness, improve engagement, and drive the audience to take action.
Network development involves building influencer communities of passionate brand advocates that an organization owns. This allows a brand to leverage influencers for ongoing activations.
August United has worked with well-known clients, particularly in their home area of Tempe, Arizona. These include Fred Meyer, Edtech, Persil, and Ralphs.
One of their campaigns was for PetSmart. August United devised an initiative that centered on a partnership with YouTube influencer, Aaron Burriss of Lazyron Studios. August United, PetSmart, and Burriss created a fun, entertaining and practical series of 10 puppy-training videos that answered key questions on that topic. The videos resonated with young pet lovers, resulting in more than 2.7 million views of PetSmart's video series and a further 465,000 views of Burriss' behind-the-scenes vlog.
---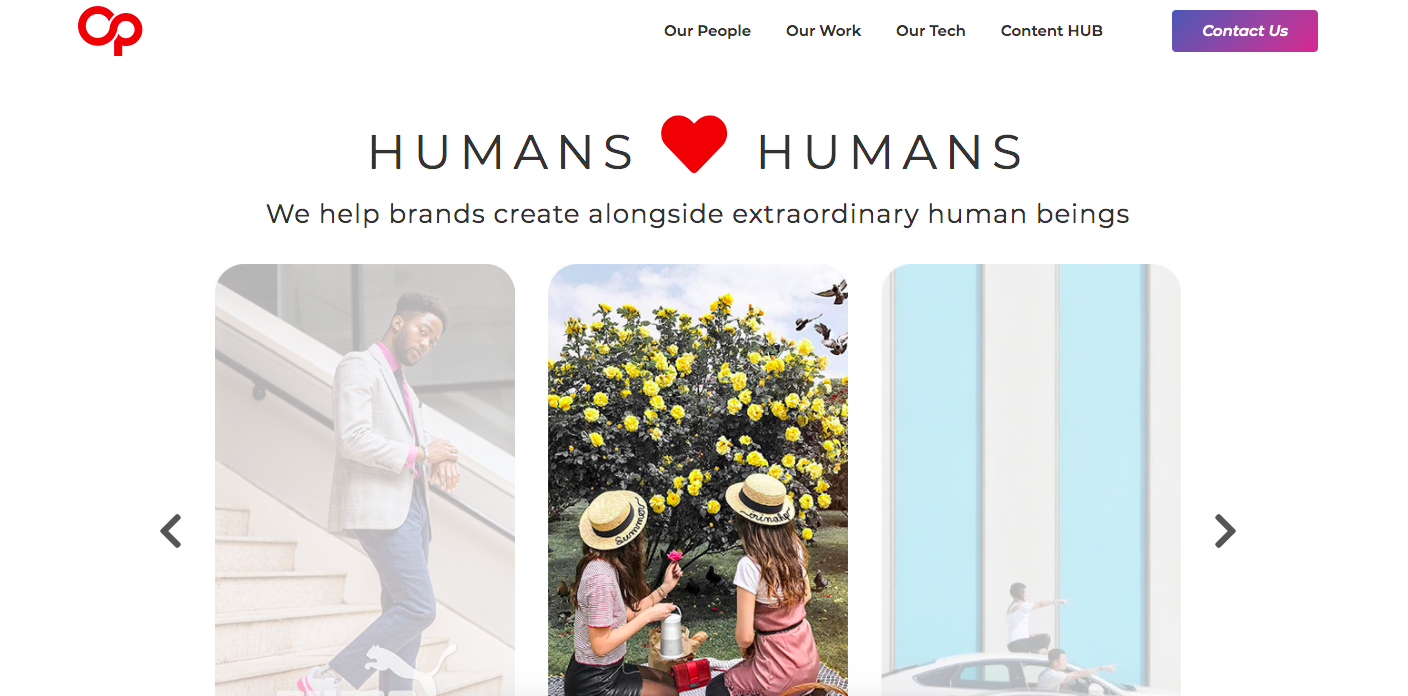 Influencer Services Offered: Influencer Marketing, Social Media Marketing, Digital Marketing.
Social Networks Catered for: Facebook, Instagram, Instagram, Snapchat, Twitter, Pinterest, YouTube, Twitch.
Offices: Los Angeles, San Francisco, Chicago, New York, Milan, London, Hong Kong
Open Influence relies on its global team of passionate experts. It has featured in both Forbes 30 under 30 and Inc. 30 under 30 lists.
It offers a full-service influencer solution that combines a proprietary technology platform, industry insights, and diligent processes to deliver consistent quality content and ROI. Open Influence is committed to bringing the human element back to advertising by empowering individuals to create and share. Its mission is to scale the storytelling process through efficiency, quality, and transparency for both advertisers and content creators.
Open Influence offers both an influencer platform and a full-service influencer agency.
As a full-service influencer agency, it splits its work into four components:
Creative strategy

Influencer identification

Influencer outreach and campaign management

Campaign reporting
Open Influence has an in-house creative team to support brands create impactful campaigns across the full gamut of social media networks. It uses its own platform to access data for hundreds of thousands of global influencers. It recommends suitable influencers based on the platform's suggestions. Once clients approve influencers, Open Influence sets up a campaign, using its proprietary campaign management software to facilitate all parts of the influencer-advertiser relationship.
Finally, Open Influence tracks the progress of campaigns and how they measure against goals. It then reports performances and ROI.
---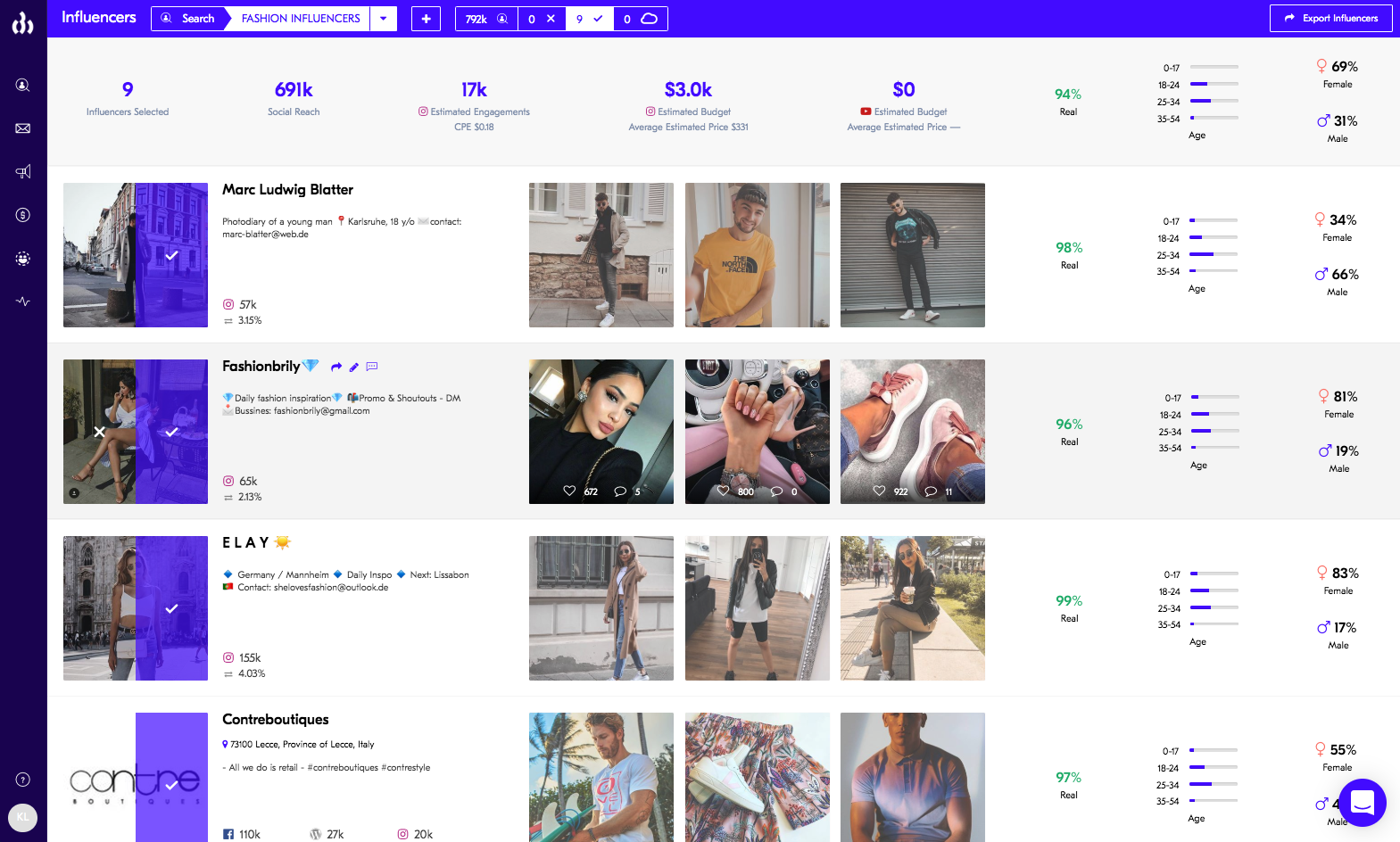 Influencer Services Offered: Influencer Marketing, Social Media Marketing, Content Marketing, And Content Creation.
Social Networks Catered for Blog, Facebook, Instagram, Twitter, Pinterest, YouTube, Twitch.
Offices: New York City (USA), Paris (France), Lyon (France), Neuchâtel (Switzerland)
Upfluence straddles the influencer marketing and platform divide. It provides leading influencer marketing tools to help select influencers, manage, and analyze influencer campaign performance at scale. However, Upfluence also offers both influencer marketing and content marketing services, to brands who want more than a platform.
It also acts as a full-service influencer marketing agency. It begins by discussing their clients' marketing agency goals with them. It provides strategists, media planners, industry specialists, and developers to best meet their needs.
It then uses top influencers to tell a brand's story at scale. Using their own influencer tools, Upfluence discovers the most relevant influencers to boost brand awareness and visibility. If client goals are more sales focused, Upfluence can Increase their clients' sales and conversions via influencer web to store or influencer affiliation.
As campaigns, progress Upfluence enables clients to analyze influencers' content performance through its in-house tracking technology. This measures social impact based on generated engagements. Brands can even monitor their e-reputation.
If clients need content for their campaign, they can tie in Upfluence's content marketing services with influencer marketing. Upfluence produces content in eight languages and in a range of formats, including infographics and data visualizations.
---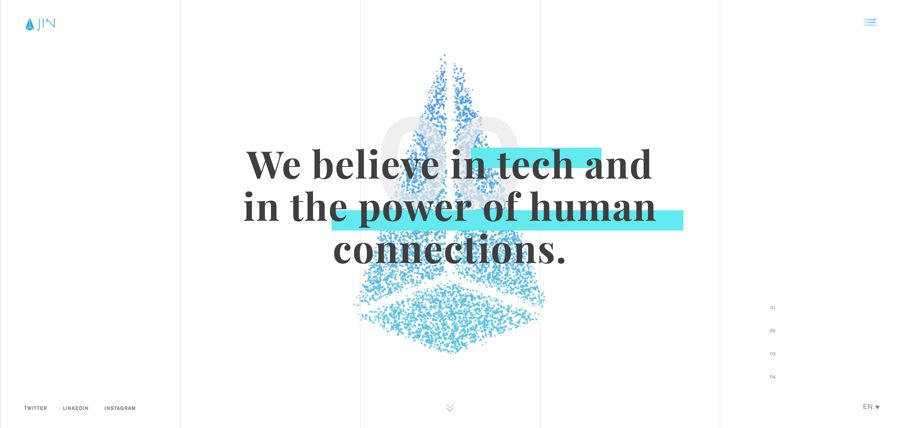 JIN is a European communications agency, specializing in digital influencers and public relations. They have served 200 clients in France, Europe, and the US, with a global reach across 40 countries.
They see themselves as being an agency for a new world. They include both influencer marketing and employee advocacy amongst their services.
They also run corporate reputation services, helping businesses and executives solidify their role as a leader through a singular authentic voice.
Another one of JIN's services is brand marketing, where they develop communities and design campaigns to make brands more visible, meaningful, and attractive.
Their work is insight driven, including detailed research on the brand. They analyze the competitive environment, build customer personas, assess customer experience and communication, and identify trends and weak signals.
---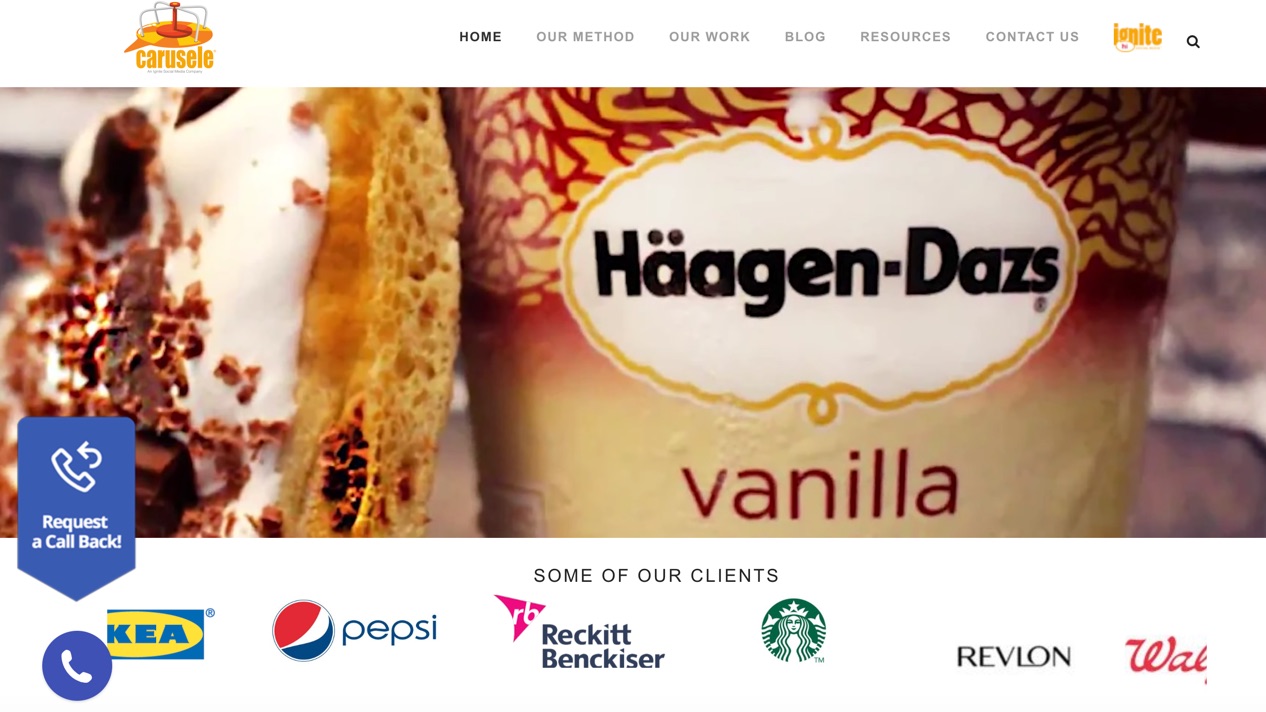 Influencer Services Offered: Influencer Marketing.
Social Networks Catered for: Blog, Facebook, Instagram, Twitter, Pinterest.
Offices: Raleigh, North Carolina; Birmingham, Michigan
Carusele launched in 2015 promising to provide guaranteed results, such as reach, engagement, web traffic, and conversions, to America's best brands and retailers.
It created a Content Performance Index™ to track, test and score campaign content in real time. This helps Carusele to identify the best performing content to syndicate multiple ways to reach a client's highest value customers. The Content Performance Index™ ranks influencer content against both other content in each campaign as well as related content across previous campaigns.
Carusele has also developed TrueViews Algorithm and Engaged Audience Profiles™, to show brands exactly how many people they are reaching and that they are engaging their precise target audience.
It also developed The Carusele Way. This has four main stages:
Create – Hand-selected influencers create original content on behalf of brands and share it to their social networks

Test – Carusele's systems monitor all the posts in real time for performance, allowing them to identify the best content.

Amplify – Carusele uses a mix of a dozen different methods to boost proven content to ensure it reaches clients' best customers.

Engage – influencers host promotions to incentivize user-generated content, discussions and sharing by target audiences, further spreading campaign messages.
---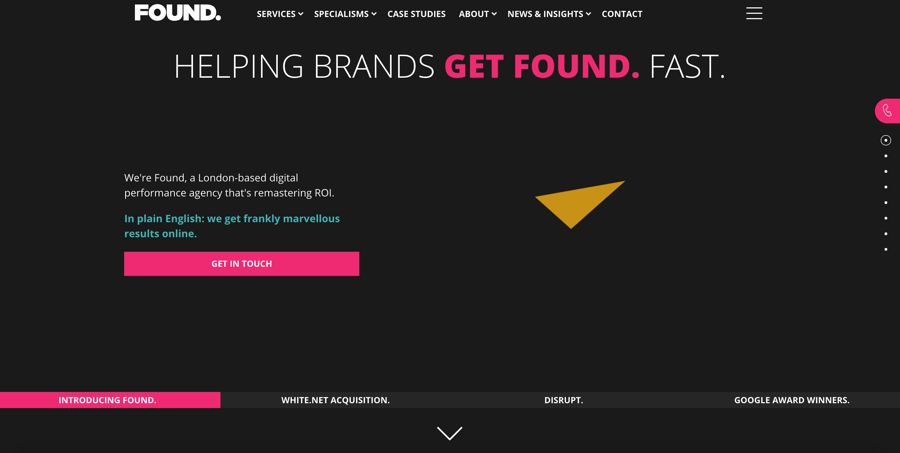 Influencer Services Offered: Influencer Marketing, Social Media Marketing, Social Media Management, Digital Marketing, Content Creation, Community Management.
Social Networks Catered for: Blog, Facebook, Instagram, Snapchat, Twitter, Pinterest, YouTube.
Offices: London
With a name like Disrupt, you wouldn't expect this influencer marketing agency to have low goals. Indeed, it aims to make its client brands famous. It is the brainchild of entrepreneurs Matt Thorne and Phil Kemish, who met while working together on the UK's largest urban entertainment platform. It became the UK's leading youth marketing company.
Disrupt became an award-winning, integrated Social Marketing Agency in London. They earned brands' attention through content, social media and influencer marketing, and also drive action through paid media all under one roof.
Disrupt has always been very youth-focused, with a focus on promoting relevant brands to Generation Z. It became known for making brands famous at the cutting edge of culture.
London-based digital performance agency, Found recently purchased, Disrupt, however. They found it made sense to bring together the analytical, advertising, performance-focused Found with the creative, content-rich, social innovating Disrupt.
Found aims to continue Disrupt's success with its youthful audience. As the Disrupt staff has now moved into Found's offices, they will undoubtedly continue to showcase how influencer marketing can work so successfully with Generation Z and products that target the youth market.
---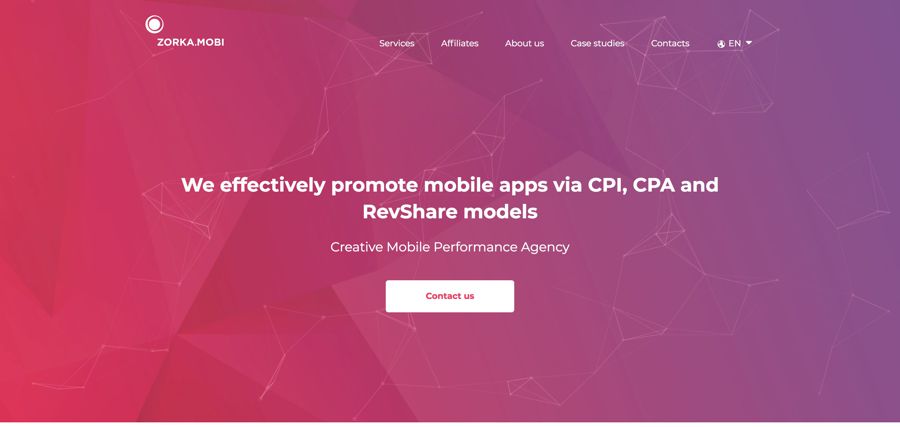 Influencer Services Offered: Influencer Marketing, Content Marketing.
Social Networks Catered for: Instagram, Twitter, YouTube, Telegram, Vkontakte, Twitch.
Offices: Minsk (Belarus), Dover (USA)
Zorka.Mobi proves that influencer marketing is genuinely global. Indeed, it claims to operate in more than 90 countries and regions.
As the .mobi part of its name indicates, Zorka.Mobi promotes mobile apps around the world with the help of influencers. It has worked with more than 200 globally recognized developers and publishers.
As well as dealing with influencers, Zorka.Mobi handles performance based advertising: in-app ads, DSP, and its own affiliate network, Zorka.Network.
It provides creative services including in-house video and banner production.
It uses a dedicated influencer marketing team for that section of their business. It also has a dedicated campaign management platform, Zorka.Video.
Currently Zorka.Mobi has over 300,000 influencers in its database. Customers can use the platform to see all key media and performance metrics as well as an overview and analysis of YouTube and Instagram indicators.
One successful YouTube influencer marketing tactic Zorka.Mobi suggests to clients is an integration where a video influencer interacts with a product for up to 90 seconds. Alternatively, Zorka.Mobi recommends they create pre, post, or mid-roll non-skippable ads for influencers' YouTube channels, or even a full episode for an influencer's channel devoted to gameplay, mechanics analysis or the game theme.
---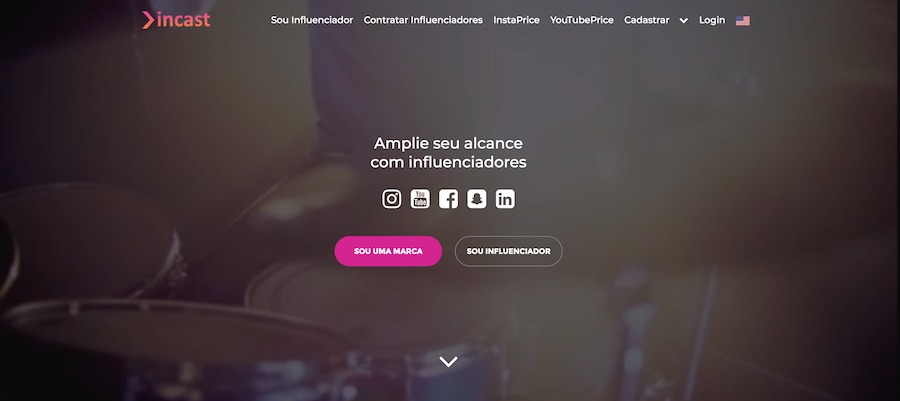 Influencer Services Offered: Influencer Marketing, Social Media Marketing, Content Marketing.
Social Networks Catered for: Instagram.
Offices: Los Angeles, Sao Paulo, Rio de Janeiro
InCast aims to connect brands with top influencers. It works with both halves of the influencer equation.
It accepts clients of all sizes and runs campaigns from as low as $250. It uses these campaigns to help their clients grow customers with branded content.
Influencers join inCast free. This places them in inCast's database and makes them eligible to create influencer content for brands. InCast provides a free media kit, which gives a guideline of how much each post is worth.
InCast uses its in-house algorithm, Instaprice, to determine suitable prices for posts, based on the reach and engagement of each influencer.
Brands begin by setting their budget and campaign. They then invite influencers registered with inCast to submit ideas for a joined campaign.
Interested influencers apply to be part of the campaign. The brands select those influencers that interest them, agree on the types of content and price. Brands can filter influencers by Instaprice, location, and niche.
Once the parties agree on the details, the influencers can start to create content, sharing it as decided, and the brands will pay them the agreed rate per post.
---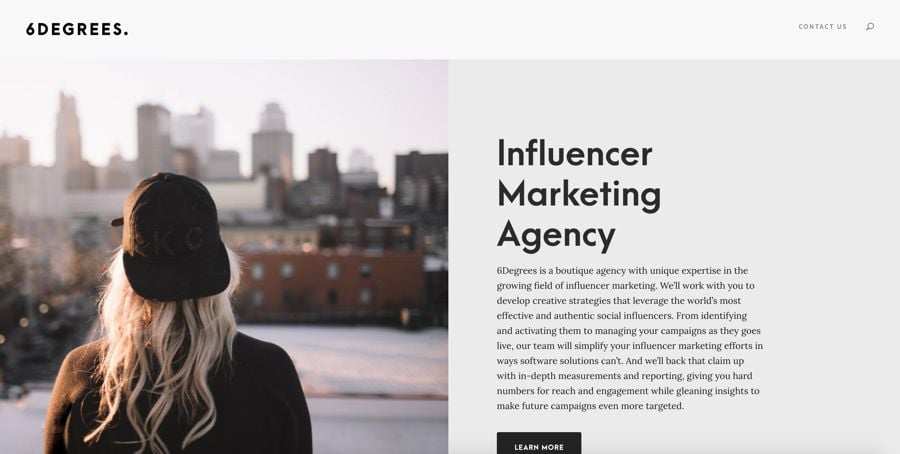 Influencer Services Offered: Influencer Marketing, Social Media Marketing.
Social Networks Catered for: Blog, Instagram, Pinterest, YouTube.
Offices: Copenhagen
Copenhagen based, 6Degrees is a boutique influencer marketing agency that offers a range of influencer marketing services. As well as its Danish base, 6Degrees also operates a small satellite office in London.
6Degrees sees influencer marketing as being much more than just increasing a brand's reach and engagement. It views brands' marketing as being the story they want to tell audiences. 6Degrees work closely with clients to understand the background and personality of their business. It focuses on the brand's marketing objectives, i.e., what is the happy ending for a marketing campaign.
They try to create everything that comes between the beginning and the end.
6Degrees uses its own software to find the perfect influencers for a campaign. It views the discovery phase as the starting point to all influencer marketing success. 6Degrees believes influencer campaigns are a collaborative process. It works with clients to finalize the list of influencers to activate.
It begins a campaign with objectives in mind, and when it reports on the campaign, it compares actual performance against those objectives. The reports reflect on the achievement of the campaign goals.
---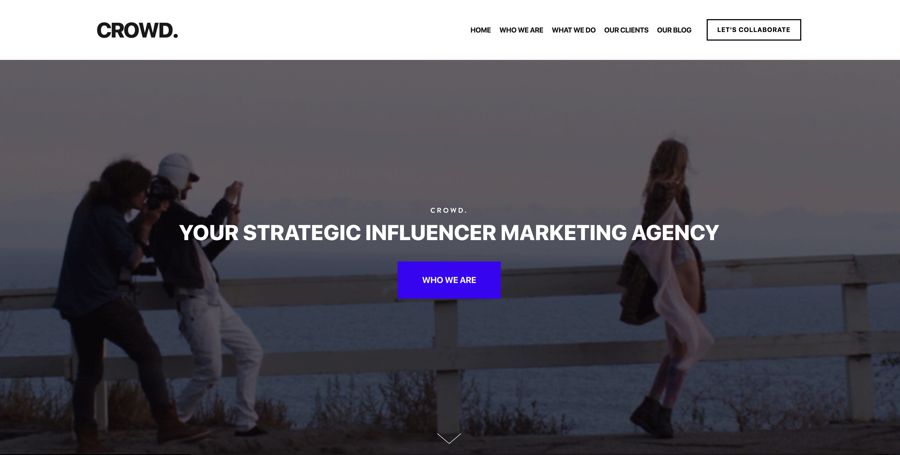 Influencer Services Offered: Influencer Marketing, Social Media Marketing, SEO.
Social Networks Catered for: Blog, Facebook, Instagram, Snapchat, Twitter, YouTube.
Offices: Amsterdam
Although CROWD. Is Amsterdam-based, it works globally with more than 10,000 digital influencers across more than 55 countries, in 30+ languages.
CROWD emphasizes that its goal is to implement digital strategies to help brands reach their marketing goals. It does this with branded storytelling, influencer talent casting, campaign amplification, and global influencer marketing consultancy.
It uses a 10-step process that encompasses campaign strategy, campaign management, and campaign reporting,
Strategy: Extensive research

Strategy: Strategic proposal

Strategy: IO Approval

Strategy: Influencer discovery and client approval

Management: Influencer negotiations

Management: Influencer contracts

Management: Influencer Briefings

Management: Product Handling

Reporting: Paid Social (Optional)

Reporting; Full service and analytical report
---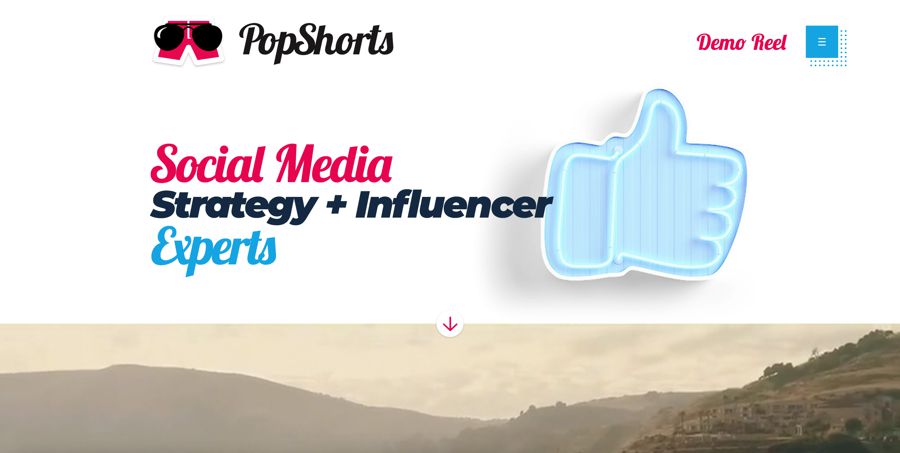 Influencer Services Offered: Influencer Marketing, Social Media Marketing, Digital Marketing, Content Marketing.
Social Networks Catered for: Facebook, Instagram, Snapchat, Twitter, YouTube.
Offices: Los Angeles
PopShorts sees itself as more than a social agency – it is as a storyteller.
It takes a data-first approach, leveraging multiple data partnerships to ensure it can effectively reach and engage with their clients' target audiences on social media.
It complements its data with high-quality creativity to enable a cross-platform social media strategy.
PopShorts prepares an entire campaign, from timelines through to detailed storyboards. It offers full in-house production and post-production capabilities. It oversees all content creation to ensure it is on-brand, on-message, and meets quality requirements.
It tracks all relevant metrics and provides clients with weekly reports throughout a campaign, along with any optimization recommendations. It also dives deep into campaign results to produce valuable insights that may benefit future campaigns.
They offer a wide range of influencer marketing services, including:
Data-Backed Identification

Influencer Strategy

Campaign Management

Product Launches and Events

Movie Screenings

Brand Safety Assurance

Usage Rights & Licensing

FTC Compliance

Measurement & Reporting

Testing & Optimization
---