Advertising Disclosure
Advertising disclosure:
Our partners compensate us. This may influence which products or services we review (also where and how those products appear on the site), this in no way affects our recommendations or the advice we offer. Our reviews are based on years of experience and countless hours of research. Our partners cannot pay us to guarantee favorable reviews of their products or services.
When it comes to your brand reputation, you can't leave it up to chance. If not dealt with promptly and appropriately, even the smallest mistakes could soon escalate into bigger problems until they become expensive PR disasters.
As a result, it's crucial for businesses to be on their toes and closely monitor conversations around their brand. This will enable them to quickly detect issues and fix them before they turn into bigger problems. It also allows them to identify opportunities to bolster their brand reputation.
To help you monitor and improve your brand reputation, we've put together this list of over 10 top social listening tools that you can use. Let's take a look.
---
Top Social Listening Tools to Boost Your Brand Reputation:
---
Top
social listening tools
2024
Brandwatch simplifies social listening with straightforward features that let you track brand mentions from a visual dashboard. The platform helps you visualize different brand mention metrics such as the volume over time, daily breakdown, and volume by country. It even shows you the top topics revolving around your brand so you can understand what your audience is most concerned about and what resonates with them.
The AI-powered software detects any spikes and drops in brand mention data so you can get real-time updates of unusual activity. And you get an automatic ping about negative comments so you can take quick action to curb an upcoming crisis before it becomes a major problem. These features empower you with the insights you need to protect your brand reputation.
---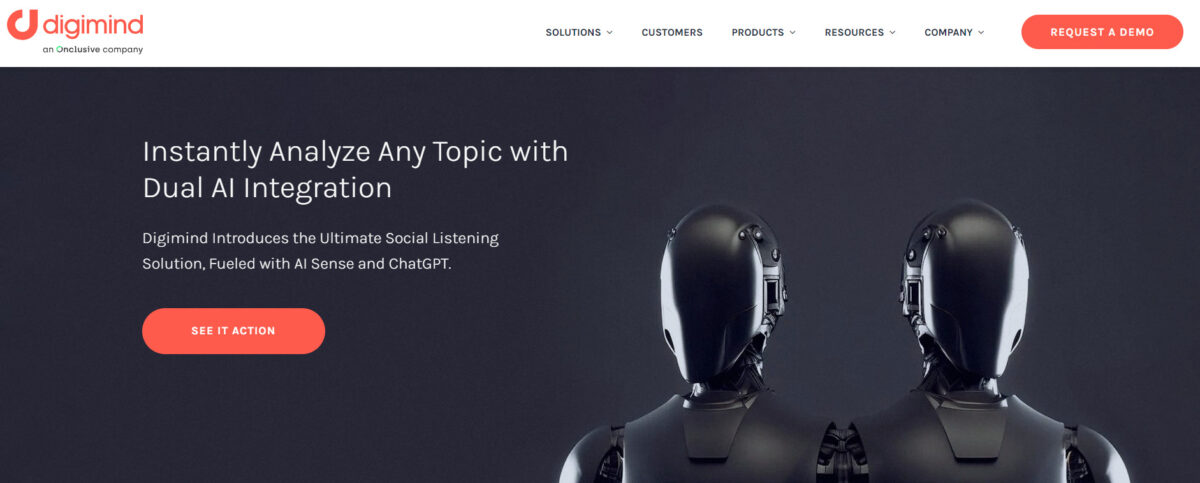 Included in Digimind's impressive list of features is social listening. In real time, it will show you the online conversations that are the most important to your business. As it scans millions of online sources, you can rest assured that virtually nothing will get missed. Armed with this valuable, up-to-date info, you'll be in a much better position to make improvements to your digital marketing strategies.
In addition to listening in on what audiences are mentioning about your brand on social media, it will also analyze Google search behavior. Using their proprietary Top Reputation module, it will track in real time what people want to Google about your offering and brand as well as related topics (such as your competitors).
Then, to help you make sense of all this data, it offers a number of predesigned templates that you can use to create a report. Alternatively, you can simply use its automatic report generation feature for daily, weekly, or monthly reports.
---
YouScan is a social media intelligence tool that comes with powerful image recognition capabilities. It goes beyond text conversations to analyze objects, logos, scenes, and activities on user-generated images. This can be used to measure brand visibility and understand how your products or services are consumed in the real world.
Using YouScan's in-depth analysis, you can understand public perception about your brand and see if your positioning aligns with that perception. It helps you to get a better sense of what satisfies your customers and what disappoints them. For example, they may love your products and customer service but find your price point too high. These insights can then be used to realign your messaging and your offering to improve brand perception.
With the help of YouScan's real-time notifications, you can be the first to discover important feedback about your brand–be it positive or negative. That way, you can deal with negative conversations before they escalate into bigger issues that can affect your brand reputation. And you can also leverage positive conversations to engage with your audience and boost your reputation.
---
AgoraPulse is a full-featured social media management platform with powerful listening capabilities. This allows you to focus on the most important conversations while blocking out the irrelevant ones, which will allow you to streamline your listening efforts. You can also label conversations so you can easily access customer feedback, important posts, and competitor activity for an appropriate response.
What's great about AgoraPulse is that it automatically labels your most engaged followers. This allows you to identify ambassadors and influential followers that are helping your brand reputation grow. You could find a way to engage with them, amplify their voice, or even activate them for your influencer marketing programs to further boost your reputation.
---
Brand24 is an online reputation management platform that gives you access to conversations about your brand across multiple sources. This goes beyond social media and includes forums, news, blogs, reviews, videos, and even podcasts. So it gives you an extremely comprehensive look at your brand reputation across all possible online sources, ensuring that you don't miss anything.
The advanced sentiment analysis feature automatically segments positive, negative, and neutral brand mentions. And you get instant alerts for negative mentions so you can immediately respond and control the situation before it escalates, allowing you to save your reputation.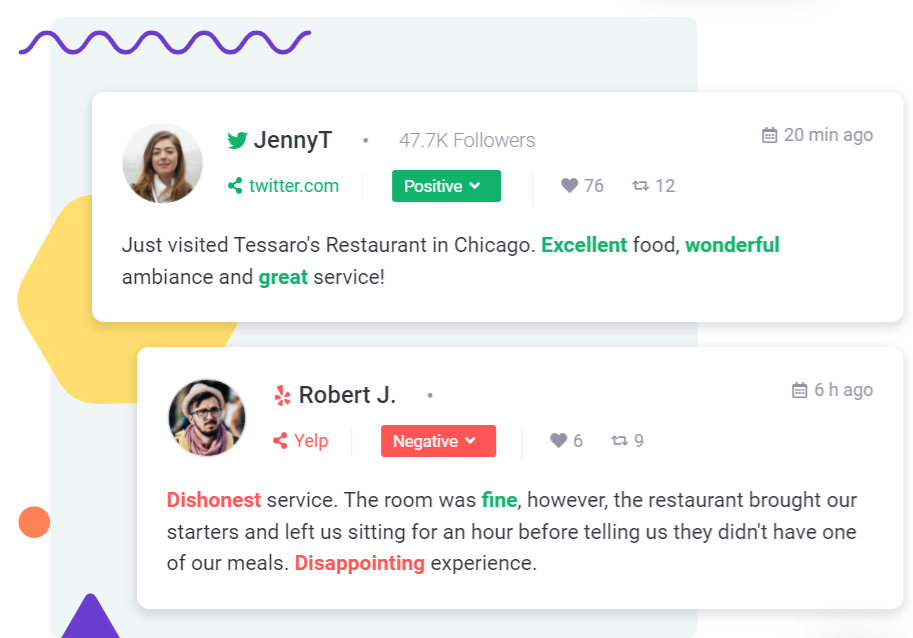 By listening in on these conversations, you can also get an idea of what your audience likes and dislikes, enabling you to understand them better and improve your brand communication. Brand24 allows you to easily access these online conversations and participate in them to improve customer satisfaction and boost your reputation.
---
One of the more heavy-duty social media marketing suites, Sprout Social comes with powerful social listening tools to uncover critical business insights. You can use it to monitor and analyze conversations around your brand and relevant topics to get a feel of consumer sentiment.
Sprout Social provides you with comprehensive insights to help you visualize your brand health. This includes share of voice, potential impressions, unique authors, and average positive sentiment. These insights will help you see how you measure up to the competition so you can leverage opportunities to differentiate yourself.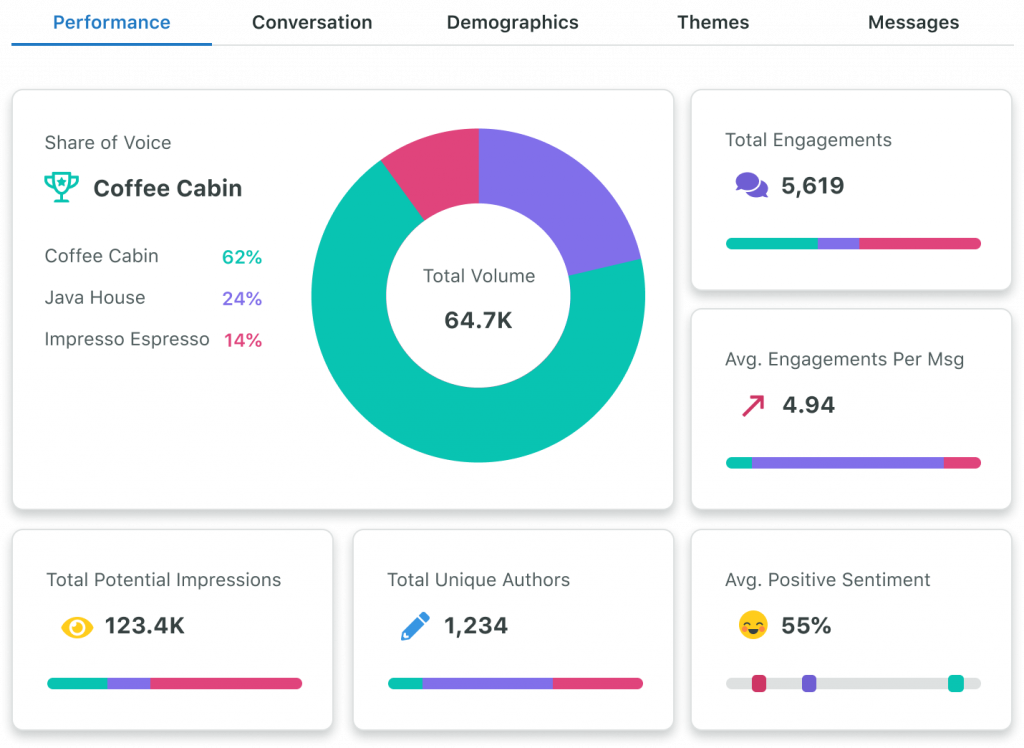 The listening feature gives you access to unfiltered thoughts and opinions as well as specific feedback. And the analysis feature helps you identify industry trends and brand opportunities. All of these can guide your strategies and optimize them to boost brand reputation.
---
Keyhole is a social listening and influencer marketing platform that gives you a robust tool to monitor your brand mentions. It gives you access to all the direct and indirect brand mentions as well as brand keywords and hashtags. The platform pulls data from multiple sources beyond social media, including blogs, forums, and news articles, providing you with a comprehensive look at where your brand reputation lies and the sentiment around your brand.
One of the key features is the ability to get predictions related to possible changes in your brand reputation. Using machine learning, Keyhole lets you quickly find out if there's a sudden spike in conversations about your brand.
It immediately notifies you about your posts that are starting to gain traction or go viral as well as complaints from unhappy customers. This gives you the insights you need to quickly respond and protect your brand reputation or take advantage of opportunities to boost it. For example, engaging with a positive brand mention could be a great way to acknowledge your fans and show your appreciation, nurturing their loyalty and support.
---
Mention is a powerful tool for monitoring conversations across forums and social networks and analyzing mentions of your brand, products, or other related topics. It allows you to filter key conversations so you can compare trends, gauge audience sentiment using robust filtering options, and visualize audience evolution within a given timeframe.
From the intuitive dashboard, you can keep tabs on all mentions of your tracked terms–whether it's your brand name, product name, or other related terms. This features an automatic tagging feature that lets you categorize conversations based on keywords. That way, conversations can be neatly sorted as positive feedback, customer complaints, or other tags.
This saves you heaps of time trying to find negative comments that need to be immediately dealt with and positive ones that you can engage with by thanking your customers. So you can instantly take action and save your brand reputation when it's at risk. And you can quickly leverage opportunities to nurture happy customers to further boost their perception of your brand.
---
As the name suggests, BrandMentions listens in on billions of brand mentions to analyze the overall tone and sentiment of the conversations around your brand. It provides you with real-time updates on your social media mentions so you can quickly manage them with a suitable response.
It even lets you fine-tune your search to make it more specific to your brand or your listening goals. For example, you can conduct a search for mentions that include a specific phrase and/or exclude a certain keyword. This enables you to filter your search so that you only get results that will be useful for saving or improving your brand reputation.
What's great about this feature is that you can find the most important conversations more quickly. This leaves room for faster responses and resolutions that will eventually play a role in improving your brand reputation.
---
Meltwater is a media monitoring and social listening platform that you can use for tracking brand mentions in real-time. It lets you analyze your overall brand health based on metrics like share of voice and even monitor how media exposure changes during a given period. This is a great way to gauge how your brand reputation changes over time.
You can use it to monitor mentions related to your brand, campaigns, and even executive teams across social media and news publications. This provides you with the context and insights you need to make informed decisions and develop an appropriate communications strategy.
For example, you can immediately get alerted on an emerging controversy about a company executive. You can then use this information to craft a PR strategy to influence the narrative and avert the crisis before it turns into a major issue. This may involve distributing press releases and reaching out to journalists directly.
Meltwater can also help you find key influencers and journalists who can help you tell your story to truly reflect your brand values and build your credibility. By getting your story out through credible and trusted sources, you can eventually build a strong brand reputation or enhance an existing one.
---
Talkwater Analytics is a powerful brand intelligence platform that enables you to understand conversations happening around your brand and the sentiments around those conversations. It comes with preloaded IQ Apps, which are dashboards to analyze your social listening data for different objectives.
For instance, the brand intelligence dashboard offers a detailed breakdown of metrics related to your brand mentions and engagement so you can keep track of your overall brand performance. The crisis management dashboard lets you stay on top of negative brand mentions so you can immediately look for a solution in case of bad press or customer complaints and protect your brand reputation.
The influencer networks dashboard is a cool feature to help you identify influential personalities within a certain topic. So you can find people who are leading the conversation around your brand and look for opportunities to amplify their voice and further boost your brand reputation.
---
Awario is a social listening and analytics platform that provides you with actionable real-time insights. It lets you set up non-stop monitoring for brand mentions and relevant keywords across multiple sources. That way, you're always the first to know about important conversations that can have an impact on your brand reputation and come up with an appropriate response.
The platform lets you sort mentions by sentiment–whether it's positive, negative, or neutral. So you don't have to scroll through hundreds of conversations just to find a few negative mentions that need immediate action. Instead, you can quickly find all the conversations with negative sentiment in one place and start implementing your response strategy. This allows you to quickly fix issues that could risk your brand reputation and work on improving sentiment around your brand.
---
Start Listening to Protect and Boost Your Reputation
With real-time insights into social media conversations, social listening tools are crucial to help you monitor brand mentions and manage your reputation. You can use them to quickly identify customer complaints and negative sentiment, allowing you to influence the narrative and avert emerging crises.
Moreover, you can also identify positive brand mentions and amplify them through active participation. Make the most of the list above to find the best social listening tool to help you manage and boost your brand reputation.