Nowadays firms can live or die by the quality of their reputation. With social media, customers can instantly spread your praises or make you appear like an incompetent demon. It certainly helps to know what others are saying about you on social media, so you can react appropriately, taking damage control if need be.
A while back, we profiled Tools to Monitor Brand Mentions. We take another look at the industry here, looking at 25 social media listening tools. We have deliberately picked products that we (mainly) did not look at in our last article.
Many of these tools target large businesses and enterprises and do not advertise prices for their services. However, you should find a suitable tool to help you discover your social media mentions, no matter what your size or level of competition.
---
Top Social Media Listening Tools

for 2023

:
---
---
---
---
---
---
---
---
---
---
---
---
---
---
---
---
---
---
---
---
---
---
---
---
---
What Are the Advantages of Using Social Listening Tools?
There are some of the advantages of using social listening tools to increase brand awareness and improve your social presence: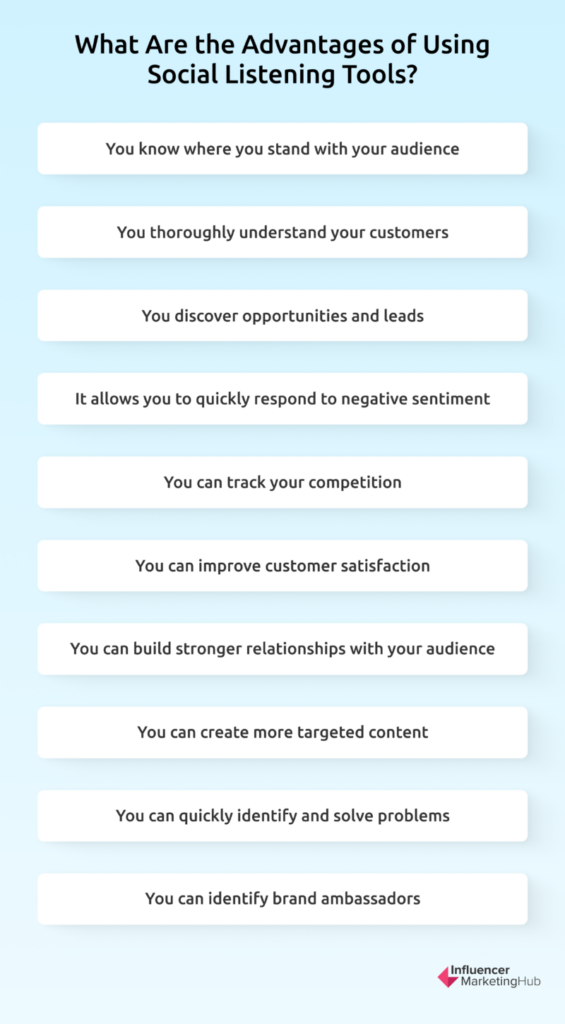 1) You know where you stand with your audience.
One of the first steps towards building a better and stronger reputation for your brand is by getting information about how your audience currently perceives your company and what you have to offer. By using a social listening tool, you get a feel of how online conversations are about your products or services. This is all thanks to the ability to monitor various channels including forums, blogs, review sites, and social media platforms.
2) You thoroughly understand your customers.
In order to create lasting relationships with your customers, you need to understand them first. This requires more than just knowing their demographics or purchasing habits. You also need to know their interests, opinions, and needs. You can use social listening tools to monitor this feedback and get a clear understanding of what your customers' pain points are.
3) You discover opportunities and leads.
A social listening tool can also be used for content marketing and identifying new sales opportunities. When you know what people are saying about your brand online, you can develop targeted campaigns that speak to their needs. You can also identify potential customers and reach out to them with personalized messages.
4) It allows you to quickly respond to negative sentiment.
Negative comments will always happen, but the way you react to them speaks volumes about your company. Social listening tools give you the capability to quickly identify and respond to any negative sentiment. This can help turn a negative situation into a positive one.
5) You can track your competition.
Social listening is not just about keeping an eye on what people are saying about your company, but you can also track your competition. This way, you can learn from their strategies and avoid making the same mistakes. Additionally, you can also see what areas they are struggling in and try to leverage that information to come up with better campaigns for your audience.
6) You can improve customer satisfaction.
By using social listening tools, you can quickly identify areas where your customers are not satisfied. This way, you can take the necessary steps to improve customer satisfaction. Additionally, you can also use the information gathered from social monitoring to create marketing campaigns that target specific pain points.
7) You can build stronger relationships with your audience.
By engaging with your audience on social media, you are building stronger relationships. This way, you can turn one-time buyers into lifelong customers. Additionally, you can also use social listening tools to generate buzz and build a community around your brand.
8) You can create more targeted content.
If you want your content to be successful, then you need to make sure that it is relevant to your audience. By using social listening tools, you can quickly identify trends and hot topics within your industry. This way, you can create content that is more likely to resonate with your audience.
9) You can quickly identify and solve problems.
Social listening tools are also a great way to quickly identify and solve customer service issues. By monitoring social media conversations through brand mentions, you can spot issues as they arise and take prompt action to resolve them. This helps to improve the overall customer experience and show your customers that you care about their satisfaction.
10) You can identify brand ambassadors.
Listening to social media will help you identify customers who are already raving fans and talking about your brand to their own audience. These customers can then be turned into brand ambassadors who can help promote your company on their social networks.
---
Things to Remember When Using Social Listening Tools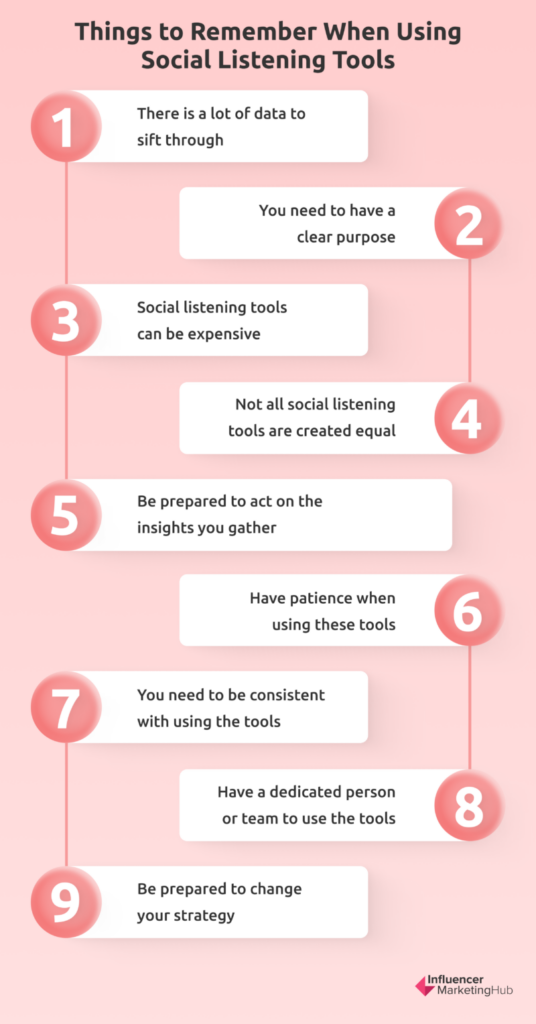 1) There is a lot of data to sift through.
Using social listening tools can be overwhelming because there is a lot of data to go through. You need to make time to make sense of all the information you gather to come up with solid insights and sound recommendations for your brand.
2) You need to have a clear purpose.
Having a clear purpose is important when it comes to these tools. It is easy to get lost in all the data, so a defined purpose can be your guide to getting the data you need. Additionally, you won't be able to effectively measure your results if you don't know what you want to achieve. Always begin with the end in mind.
3) Social listening tools can be expensive.
While some tools come with a free trial period, the more popular ones can be expensive and may not fit into your budget. Choose the best social media listening tool that does not have to cost you an arm and a leg but can meet the minimum requirements you need to get your brand's top social media data.
4) Not all social listening tools are created equal.
There are a lot of different social listening tools on the market, and it can be confusing if you do not know the outcome you need when using them. Find time to do your research and schedule a demo, so you can shortlist the ones that best suit your specific needs.
5) Be prepared to act on the insights you gather.
Just because you have all this information at your disposal doesn't mean anything will change if you don't take action. You need to plan how you will use the information you gathered from these social listening tools to improve your business. Otherwise, it will just be data to ignore.
6) Have patience when using these tools.
Social listening tools are great for keeping you up to date with how your brand is being viewed in the marketplace, but it takes a while before they start paying off. Keep in mind that this is a long-term strategy and you won't see results overnight.
7) You need to be consistent with using the tools.
Consistency is key when it comes to using social listening tools. Set aside time each week to check in on your social media channels and see what people are saying about your brand. This way, you can quickly address any issues that come up and keep abreast of the latest trends in your industry.
8) Have a dedicated person or team to use the tools.
When you have a dedicated marketing team who is responsible for managing these social listening tools, you can be sure that someone is always monitoring your social media channels. This person in charge can also sift through all the data to make sure real-time action is taken based on the insights gathered.
9) Be prepared to change your strategy.
Your social media strategy should be flexible enough to accommodate changes based on the insights gathered from social listening tools. Be prepared to make changes in your content, social media campaigns, and even your overall marketing strategy if needed.
---
Final Thoughts
In today's highly competitive marketplace, it is imperative that you understand what people are saying about your brand. Social listening allows you to do just that. By using the tools mentioned, you get to monitor multiple social media channels, blogs, and websites for relevant content. You can also use social listening to identify opportunities and threats and make necessary changes to your marketing strategy. Additionally, social listening can also help you identify influencers who could be valuable partners in your influencer marketing campaigns.
These valuable insights can help you adjust your marketing strategy in real time, ensuring that you're always ahead of the curve. If you are not already using social listening, now is the time to start. The competitive advantages mentioned above are just some of the many benefits that social listening can provide. With these, you can be sure to stay ahead of the competition and continue delivering the best possible experience to your customers.